Jessie Pope was an English poet, writer and journalist who divided opinion quite dramatically with her motivational style of poetry during the first world war. Almost every line she wrote seemed to be a call to arms, up and at 'em and to hell with the Kaiser. While she was lauded by many as just the kind writer that was needed to encourage men to join up and go to war, she was, by some, reviled as being far too jingoistic and flippant. She never talked about the horrors of that terrible conflict as others such as Wilfred Owen did. People like Owen, of course had experienced the battle field at first hand whereas the likes of Jessie Pope often saw it as "a bit of a game".  In fact she wrote a poem called Who's for the Game? The verse shown here illustrates her attitude to the whole thing:



Jessie came into this world in Leicester in 1868 but moved to London where she studied in North London at the Collegiate School. She was a keen and enthusiastic writer and took up a journalistic career with newspapers The Daily Mail and Daily Express. She also contributed articles to magazines such as Punch, Vanity Fair, Pall Mall and Windsor. Although probably becoming most famous for her WW1 output her earlier work was of a much more light hearted nature such as Paper Pellets, an anthology of humorous verse (1907), and an example of her work for children was The Cat Scouts, written in 1912.
When war broke out in 1914 the Daily Mail published a number of Pope's poems which were blatant challenges to men to join the war effort. It would be highly unpatriotic NOT to and those who dithered or refused to join were for the "white feather" treatment. She certainly didn't pull any punches with some of her verse; she extolled the virtues of those who answered the call while deriding those who did not. Her poem in 1915 had the title The Call and was especially hard hitting about the reluctance of some men to "get in the trenches":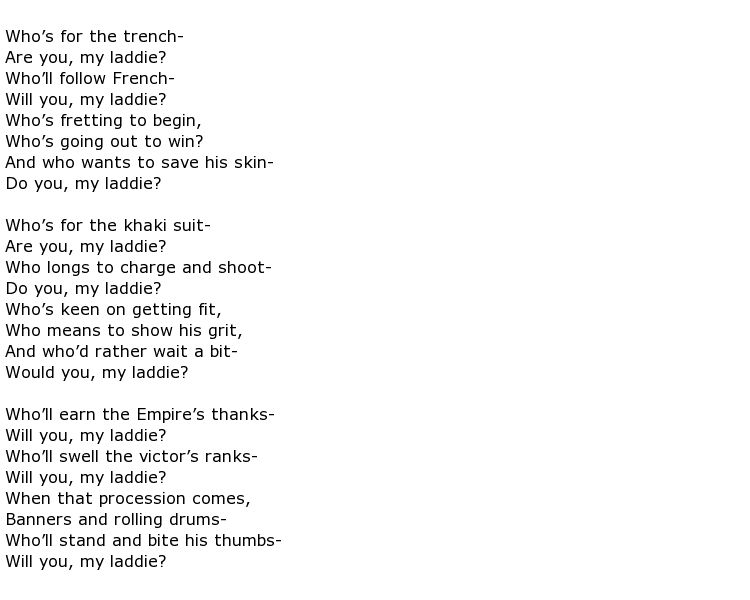 Jessie Pope was really busy during the war, not only writing her newspaper columns but also having three collections of poetry published:

As mentioned above she received much criticism within literary circles for her jingoism and despite being so widely published her thoughts did not always coincide with those of the British people at the time.
Looking back at her work she does not come out as just a propagandist. She wrote a great deal, for example, celebrating the efforts of women who had to shoulder the burden of the hard toil previously done by their menfolk. She wrote about the Suffragette movement as well, though it is difficult to determine which side of the fence she was on regarding that subject. In the 1920s and 1930s she continued with her writing and this included short stories, poetry and more children's stories.
She finally, at the age of 61, found time to get married. He was a widowed bank manager and they moved out of London to Fritton, a small town on the Norfolk coast near Great Yarmouth. But it was in Devon where Jessie Pope died, aged 73, in December 1941.