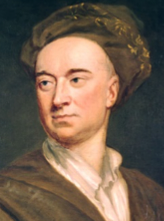 John Arbuthnot was an intellectually gifted man who was a satirist, physician and mathematician.  He is often described as a true polymath and was responsible for the invention, in 1712, of a character named John Bull who would go on to symbolise "middle England" in political and sociological posters, pamphlets and publications.  He was one of the founder members of a London literary group called the Scriblerus Club, other members including famous writers Alexander Pope and Jonathan Swift.
He was born some time during April 1667 in the Scottish north eastern county of Kincardineshire, the son of an Episcopalian priest.  These were turbulent times for Scotland and the Jacobites and it is not known for certain where he was educated, although suggestions are that he went to Aberdeen's Marischal College and gained a degree.  By 1691 he had moved to London and taught mathematics for a while.  He had a keen interest in science and, the following year, translated from the original Dutch a book called



This is believed to be the first study of probability published in English.
Although this work was a success Arbuthnot was struggling financially, a situation eased by a number of tutoring posts that he filled during the next few years.  He decided to become a student himself, again, when enrolling on a doctor of medicine course at the University of St Andrews in September 1696.  However it was deemed unnecessary for him to take the course, the college awarding him the doctorate on the strength of seven theses on medicine presented on the day of his enrolment.
During the early years of the 18th century Arbuthnot was reading works of a scientific nature with a growing sense of scorn and decided to respond to them with satire.  This was the beginning of his time as a noted satirist but, apart from that, he was also being favoured in royal circles.  He became close to Prince George of Denmark and the English Queen Anne and, no doubt with their patronage, he became a Fellow of the Royal Society in 1704.  The following year Cambridge University made him an MD.
It seems that, despite his academic and social achievements, Arbuthnot found it hard to take his own work, and that of others, seriously.  He was quick to attack people seen to act scandalously, or outside the laws of human decency, and yet many saw him as an amiable sort of chap.  He certainly held favour at the royal court and these connections ensured that he presented himself as a figure of some importance, as well as one of great modesty.  He could not help himself when he picked up a pen though and a good example of his biting satire can be found in the poem


the opening lines of which are reproduced here: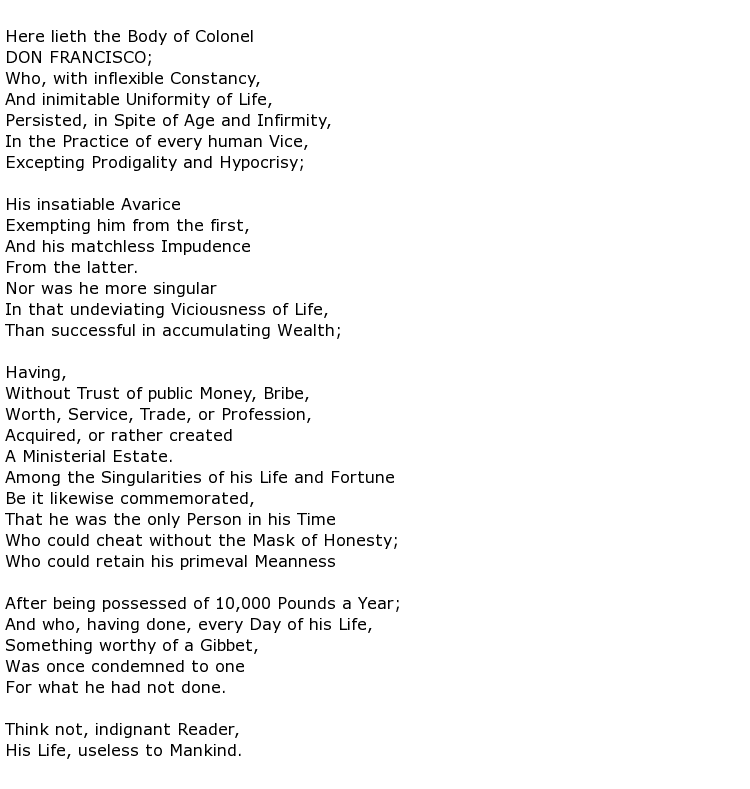 The character John Bull began to appear in satirical pamphlets produced by Arbuthnot on behalf of the Tory government around the year 1712.  Bull was "England", bringing a law suit against Louis Baboon (otherwise known as Louis Bourbon, Louis XIV, King of France).  His scornful attitude to the ongoing wars in Europe was plain to see and his work was well received.
By the mid-1730s his health was failing.  He was overweight and suffering with kidney stones and asthma and announced to his friends that he was dying.  His good friend Pope wrote a poem in his honour called



John Arbuthnot died in London on the 27th February 1735, aged 67.