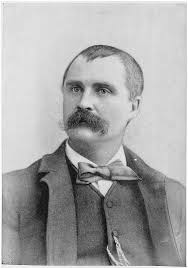 Born in Ireland in 1844, John Boyle O'Reilly was one of the most popular poets of the era, a prolific writer and often an outspoken critic of the situation of the Irish. At a young age he joined the Fenian movement and was imprisoned and deported for it, ending up in Australia before escaping penal servitude and forging a life for himself in Boston in the United States.
Born into a County Meath family that was firmly against British rule of Ireland at the beginning of the famine, John O'Reilly was greatly influenced by his fiercely patriotic mother and father. He was lucky enough to get a good early education, in part because his father was a school teacher.
He went to England for a short while and joined the army, remaining there until 1863 when he returned to Ireland. At that time he got involved with the Irish Republican Brotherhood, but after a number of raids by the British authorities he was arrested and given 20 years, two of which he spent in an English prison before being transported to Western Australia.
He was already writing on the journey to Australia, joining with another poet John Flood to produce a newspaper for the other convicts on board. Sentenced to hard labor, John O'Reilly spent the first years of his time in Freemantle working on the road between Bunbury and Vasse. He managed to get on the right side of the prison warden and was appointed his assistant, but, when O'Reilly began a relationship with his daughter, things ended badly. He made an attempt on his own life but was discovered by another inmate and was saved.

About this time, O'Reilly had formed a strong relationship with the prison priest and in 1869 an escape was arranged, and he managed to get away from Australia on the whaling ship Gazelle. Several ships later, O'Reilly landed in Philadelphia and finally settled down in Boston. He found work on The Pilot newspaper and began to write prolifically about the Irish cause, promoting a non-military solution to the problem.
After marrying Mary Murphy in 1872, he published his first work of poetry a year later. Songs from the Southern Seas drew on his experience of the previous years and he became a popular writer of the time, often being asked to write verses for special occasions. While a large number of his poems are considered populist, some of his later poems such as The Cry of the Dreamer have shown a deeper and more profound exploration of life in the 19th Century.
As he grew older he began to suffer from ill health, particularly bouts of insomnia though he continued to write. In 1881 he published The Statues in the Block and In Bohemia appeared five years later.

In 1890, suffering from another episode of insomnia, he took some chloral hydrate and was found dead in the early hours of the morning. There is some debate as to whether he took his own life or if it was just an accidental overdose. John Boyle O'Reilly was 46 at the time and a full edition of his poems was published after his death by his wife.