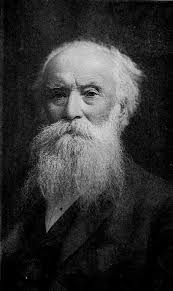 One of the great conservationists of the 19th Century, John Burroughs was also a prolific essayist on the natural world and author of poems such as The Bobolink and Waiting. He was born the seventh of ten children in Roxbury, New York, in 1837 and spent much of his youth out in the wilds near the Catskills Mountains.
From an early age working on his father's farm, he developed a close relationship with the natural world around him and, though options for education were limited to the local school, he became a keen learner. With little support from his father to go onto college, Burroughs decided it was time to leave home and earn enough to get the education he needed.
He did this by moving to a town called Olive in Ulster County where he split his time between teaching and studying. In 1857 he returned back home to marry his childhood sweetheart Ursula North and a few years later he successfully published one of his essays, Expression, in the Atlantic Monthly.
Realizing that writing alone would not support his new family, Burroughs took a job in the Treasury and worked in his spare time to produce a number of essays on the natural world. He was often compared to Emmerson and became friends with Walt Whitman, whose poetry he admired. The two had a long standing relationship and Whitman encouraged Burroughs more than anyone to continue and develop his nature writing.

In the early 1870s, Burroughs' collection of nature essays were published together for the first time under the title Wake-Robin. With enough money from his job and writing, he bought land and built the Riverby estate where he grew crops and continued to produce essays. He was visited by some of the leading lights of America including Roosevelt and Henry Ford and even managed to cause controversy at the turn of the century when he railed against the writers who were fake naturalists, a debate that went on for a full four years.
Burroughs wrote prolifically up until his death at the age of 83, writing his final work, aptly named The Last Harvest, in 1821. Many of his essays were initially published in nature magazines and covered a wide range of topics from animal life through to philosophy and literature.
His most popular work of poetry appeared in 1906 and was called Bird and Bough. Though he was probably not in the same class as his friend Walt Whitman when it came to poetry, Burroughs was a competent technician and his verses have received many plaudits over the years. Poems like The Bluebird published in Harper's Bazaar in 1903 explore the joy and hope that rises when the first bluebird sounds, hailing the start of spring and a new cycle of life.

Burroughs was in good health for most of his life and died whilst on a train outside Kingsville in Ohio. He was buried near where he used to play as a child in Roxbury and a small stone tablet marks the spot.