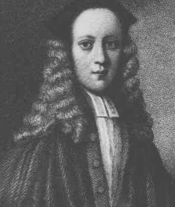 John Byrom was a Fellow of the Royal Society, an English poet and composer of hymns, and a man also credited with the invention of a system of shorthand that was considered revolutionary in its time.  In some reference books he is also known as John Byrom of Manchester or John Byrom of Kersal.
Some accounts say that he was born in a half-timbered coaching inn called The Old Wellington Inn on the 29th February 1692.  This building dates from the 15th century and still stands in a historic Manchester square called Shambles Square, and is a favourite haunt of tourists in the area.  Other stories suggest that he may have been born in Lower Kersal which is part of the Salford area of Manchester.  His parents were a well-established Lancashire family that had prospered from the wool trade
His comfortable family circumstances provided him with a good education at private schools in Chester and London before going up to Trinity College, Cambridge.  He was granted a fellowship of the college in 1714.  Like others of his generation he had the urge to travel and spent at least two years in the south of France where he studied medicine.  Alongside this though he perfected a new system of shorthand and, on his return to England in 1716, set out to teach it to students.
Byrom could have become a doctor back home in Manchester but wanted to further a career in literature and, of course, continue to develop his shorthand system.  It took until 1740 before a patent could be granted on what became known as his New Universal Shorthand.  The subject was introduced to students at both Cambridge and Oxford universities and the clerk of the House of Lords was known to use it for Parliamentary business.  Byrom was granted royal patronage from 1742 and his system was used by the Wesley brothers in the 18th century when they were laying down the foundations of Methodism in the church.
Byrom's writing took the form of poems and hymns and one of his best-known pieces of work was an Anglican hymn called Christians awake! Salute the happy morn.  This was reputedly written as a Christmas present for his daughter Dolly in 1745.  He had promised her something special and delivered on that promise.  The song was seen in public for the first time when it appeared in Joseph Harrop's Manchester Mercury some time during the following year.  The first two verses (of six) are reproduced here: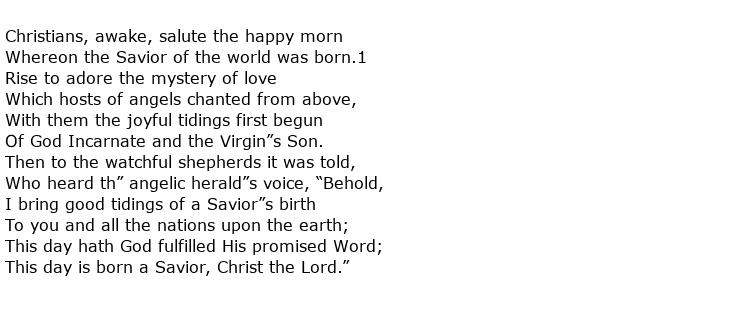 Not surprisingly most of his poetry had a religious theme, an example being My spirit longeth for Thee which opened with the lines:



A less high-brow reference to Byrom's work was an epigram which included the term Tweedledum and Tweedledee which, nowadays, refers to two characters who look alike and act in an identical manner.  Later on these names were given to two characters by Lewis Carroll in his Alice Through the Looking Glass nursery rhyme.  Byrom was a complex character and there was a suggestion that he may have been interested in the occult.  His public persona though was of a gentleman member of the Royal Society who moved in exalted professional and social London circles.
John Byrom died on the 26th September 1763 at the age of 71.  He was buried in the private family chapel in Manchester Cathedral.