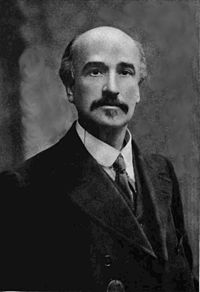 Born in 1857 in East Renfrewshire, Scotland, poet and dramatist John Davidson was a popular writer, particularly famous for his ballads and a number of humorous plays such as Scaramouch in Naxos. His father was a minister and the family moved to Greenock when Davidson was five. He later attended the Highlanders' Academy leaving when 13 to begin a life of work.
Davidson developed an interest in chemistry from a young age and returned to the Highlanders' Academy after a brief period at Edinburgh University. He entered into a career as a teacher and held a number of posts across Scotland, marrying in 1885, before deciding to forge a living as a writer. He moved to London where he found Ye Old Cheshire Cheese, one of the literary pubs on Fleet Street, and joined the Rhymers' Club that was founded by W B Yeats in 1890.
It was here that he published his first play, Bruce, and began writing for various publications such as the Glasgow Herald and the Speaker. He published a number of novels which were written to pay the bills and the best known of these is Perfervid that came out in 1890. Whilst he was initially known as a writer of plays and novels, Davidson's true calling was poetry.
He was praised by Yeats when he published his first work of verse, In a Music Hall and Other Poems, a year after the Rhymers' Club was formed. Still a minor literary figure in London, but with a growing reputation, Davidson published Ballads and Songs in 1894 and this became by far his most popular work at the time.

Encouraged by this success, he wrote a second volume of ballads a few years later and The Last Ballad in 1899. At the turn of the century, however, he decided to expound his own philosophy in a series of testaments. He rejected the majority of philosophies of the time and believed that man had to be himself to the best of his abilities.
Often confused and difficult to understand, Davidson aimed to illustrate his philosophy to the world through a trilogy of plays, of which only two were written before his untimely death in 1909. Throughout his life, Davidson was a prolific author and even tried his hand at erotica with the The Wonderful Mission of Earl Lavender which was published in 1895.

Fluent in French he also translated a number of works into English and in 1906 he was given a sizeable pension of £100 but around this time found himself in increasing financial difficulty. Though he was often helped out by friends, he suffered from ill health and depression and in 1909 left his house and was not seen alive again. His body was discovered by fishermen in Penzance and at his home friends found a final manuscript, Fleet Street Poems.
Davidson was fifty years old and, in line with his wishes, was buried at sea.