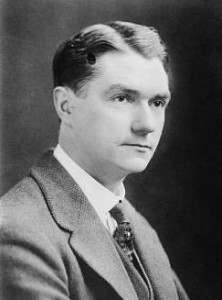 Born in 1882 in Leytonstone, John Drinkwater was a poet and dramatist who was perhaps best known for his plays about leading historical figures such as Lincoln and Oliver Cromwell. He was greatly influenced by his father who began as a school teacher but gave up his career to become an actor and try his hand at play-writing.
In 1891, Drinkwater was sent to school in Oxford where he excelled at sporting pursuits but showed little in the way of academic prowess. In 1897, at the age of just 15, he found himself in Nottingham, working as an insurance clerk, moving to Birmingham with the same company a few years later. It was to prove a pivotal moment in his life. There he was introduced to Barry Jackson who got him involved in acting, performing in a production of Shakespeare's Twelfth Night.
By this time, he was already interested in writing, gradually moving from poetry to play-writing as he became more involved in the dramatic scene. In 1903, Drinkwater self-published his first collection, Poems, dedicated to actress Kathleen Walpole, whom he married a few years later. In 1908, he wrote and published Lyrical and Other Poems, which was the first work that he actually received royalties for. A couple of years later, he left the insurance company where he had worked as a clerk to become a full time member of the Pilgrim Players run by Barry Jackson.
Around this time, he also met fellow poet Rupert Brooke and the two formed a close relationship that would see Drinkwater introduced to other important poets of the time. Along with Barry Jackson he helped to build the Birmingham Repertory Theatre which quickly gained a reputation for its innovative performances and paired down staging, and for which Drinkwater wrote his first full play, Rebellion.
He had, by this time, formed a strong association with other poets such as Robert Frost and Brooke, contributing to a new poetry magazine New Numbers. They were collectively known as the Dymock poets but their time was short-lived as Brooke died shortly after from sepsis and another, Edward Thomas, was killed in the Great War.

Drinkwater's major success was the play Abraham Lincoln which was so popular that it opened in America just a few years later. Now quite successful, he spent his time traveling between the US and Birmingham, writing his next play Mary Stuart in 1921. After an affair on a ship crossing, Drinkwater was divorced from Kathleen Walpole and married Daisy Kennedy in 1924.
In 1929, Drinkwater helped to create the Malvern Festival which would grow to become one of the main events of the UK artistic calendar, with plays and exhibitions produced against the serene landscape of the Malvern Hills. Later, Drinkwater tried his hand at film, producing and narrating The King's People which was a popular success.

After attending the Oxford Cambridge Boat Race on the Thames in 1937, Drinkwater suffered a heart attack and died shortly afterwards. He was buried in Piddington, the Oxfordshire location where he spent his holidays during childhood.