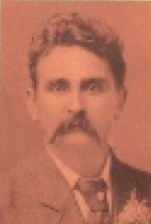 John Farrell, an Argentinean-born Australian poet, journalist, gold digger and brewer, was born on the 18th December 1851 in Buenos Aires, to a chemist who had emigrated with his wife from Dublin four years earlier.  Within a year the family were on the move again, this time heading for Victoria where Mr Farrell tried his hand at prospecting for gold, and then farming.  John grew up helping out on the farm while enjoying only sparse levels of education although he was encouraged to read as much as possible.  He left home at 19, travelling around Victoria and the Northern Territories and he spent a number of years working on farms and in breweries.
He had a strong  interest in literature and, in 1878, he produced a small collection of poems under the title Ephemera: An Iliad of Albury.  This was described as a "satirical epic" and was, perhaps, Farrell's attempt to produce something on ancient classical lines.  His work appeared frequently in the Sydney Bulletin and, in 1882,



was published.  Farrell was writing regularly while working as a partner in a New South Wales brewery and another collection of his work followed in 1887 called



This received very good reviews and perhaps gave him the push to give up brewing and seek employment in journalism.  His initial forays as a newspaperman were mixed and he tried both ownership of his own publications and the editorship of the Sydney Daily Telegraph before abandoning that line of work altogether.
He continued to make contributions to the paper up to the year 1903 before ill health prevented him from doing so.  While never ascending to the heights of greatness, he was a competent writer and one who was popular with both readers and literary critics.  Like many immigrants at the time he wrote about both the old world left behind and the new one recently discovered.  An example of the latter would be his poem simply titled Australia which describes, in flowery, expansive language, the joys of his new home.  Here are the opening three verses to this long poem:


Unlike this example though, Farrell often wrote in a humorous fashion, heavy on satire and rich in colloquialisms and references to topical events of the day.  Some  contained patriotic themes, such as



Generally speaking though it was the kind of poetry read and enjoyed at the time but not destined to enter the annals of great Australian literature.  It is true to say though that other poets of his generation, such as A B Paterson and Henry Lawson, often picked up on his style and found their work being influenced accordingly.
Much of Farrell"s poetry was reliant on topics that were popular at the time which meant its popularity lasted only as long as the topic did. The narrative drive and colloquial style he wrote in, though, did impact on other poets including A. B. Paterson and Henry Lawson.
He was a devoted family man, having married Elizabeth Watts in 1876.  They had seven children together.
John Farrell's poor health shortened his life and he died in Sydney on the 8th January 1904 at the relatively young age of 52.  A posthumous collection of his poetry came out that year in tribute, under the title