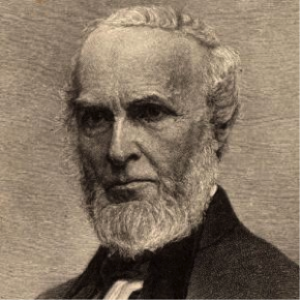 John Greenleaf Whittier was born on the 17th December 1807 in Massachusetts to a farming Quaker family. His was a poor upbringing.  The farm made little money but had to support Whittier's extended family plus farm employees.  He suffered ill-health throughout his life.  Despite a lack of formal education he was an avid reader of books and fell in love with poetry at a very young age.
In 1826 his first poem was published – 'The Exile's Departure'- in a local newspaper the Newburyport Free Press, whose editor was abolitionist William Lloyd Garrison.  Here are the opening lines;

 Garrison encouraged Whittier's writing and was also instrumental in Whittier's decision to follow a career in journalism.  Adhering to the hard-working creed of the Quakers he attended Haverhill Academy from 1827 to 1828 whilst supporting himself as a schoolteacher and shoemaker.   By the age of twenty his many published works were garnering attention from editors and the wider public interested in the anti-slavery cause.  He was passionate about   social reform and abolitionism and he worked for a number of abolitionist magazines and newspapers.  He edited the New England Weekly Review from 1830 to 1932.  During this time, in 1831, his first book, 'Legends  of New England in Prose and Verse' was published.  His interest in National Republican politics was also growing during this time and in 1831 he supported Henry Clay as a delegate.  In 1832 he unsuccessfully ran for Congress.
The failure of his attempt at Congress caused him to suffer a nervous breakdown and he returned home in 1833.  He resumed his friendship with William Garrison and joined with him in the cause of abolishing slavery.  Whittier was a founding member of the American Anti-Slavery Society.  His signing of the Anti-slavery Declaration of 1833 effectively ended his political aspirations as the freeing of slaves was anathema to businessmen and slave – owners all through the country.  By the end of the 1830s the comradeship between Garrison and Whittier was over as Whittier began to realise that the way to further the abolitionist aims was to press for legislative change as moral outrage and political discussion were not enough.
By 1845 the pressures of work together with the climate of mob violence (the offices of the Pennsylvania Freeman, which he edited, had been burned to the ground in 1938) caused his health to worsen so he retreated back home. Though his active participation in the anti-slavery cause now ended he continued to write poems which featured slavery as a symbol of all kinds of oppression, be it physical, spiritual or economical.  Whittier produced two collections of poetry with this theme, including 'Voices of Freedom' in 1846.  After slavery was abolished with the signing of the Thirteenth Amendment in 1865 he began to write other forms of poetry.
His work began to feature themes such as religion, nature and rural life and he came to be known as one of the Fireside Poets.  He was said to be strongly influenced by Scottish poet Robert Burns, as evidenced perhaps by the opening lines of his poem 'The Pipes Of Lucknow':

In 1866 he published the work for which he is best-remembered, 'Snow-bound, A Winter Idyll' which proved so popular it enabled him to live comfortably for the remainder of his life.  John Greenleaf Whittier died on September 7th 1892, aged eighty-five.