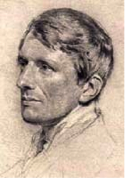 John Henry Newman was a devoutly religious, 19th century Englishman who was originally captivated by the Calvinist evangelical movement but who eventually moved towards the High Church of England and then Catholicism. Such was his status that he became known as Cardinal Newman and Blessed John Henry Newman. An Oxford academic and teacher, he was also responsible for writing a number of poems that became very well-known hymns such as Lead, Kindly Light and Praise to the Holiest in the Height. Both of these poems came from his famous work The Dream of Gerontius which was published in 1865. The English composer Edward Elgar then took Gerontius and created a musical oratorio in 1900, ten years after Newman's death.
Newman was born on the 21st February 1801 in London, the eldest of six children. His father was a Lombard Street banker with the firm Ramsbottom, Newman and Company though the bank suffered a crash when John was fifteen and his father then took on the management of a London brewery. He was educated at the Great Ealing School and here became a great reader of work by the likes of Walter Scott and Thomas Paine. During his final year at school, at the age of 15, Newman experienced a religious conversion so powerful that he later wrote in his autobiography, Apologia Pro Vita Sua, that it was:

His classics master lent him a number of books on Calvinism that so affected Newman that he:

He now considered himself to an evangelical Calvinist, believing the story that the Pope was Antichrist. Newman truly believed that his soul had now been saved but as he grew older his views changed and he began to regard evangelism:

He carried forward his beliefs from school into his time at Oxford and became a leading light in  a group of academics of the Anglican faith called the Oxford Movement who felt that the Church of England should revert to forms of Catholicism seen in the medieval era. He had been ordained as an Anglican priest in 1824 and served in this role for a number of years. Much later though, at the age of 44, Newman converted to Catholicism and was eventually elevated through the priesthood ranks when Pope Leo XIII made him a Cardinal. Although now a leading figure in the church he still maintained his academic connections and was one of the founders of what is now the largest university in Ireland.
He was busy writing during the 1860s with his autobiography taking up two years (1865-66) and The Dream of Gerontius was also published in 1865. In 1870 he published The Grammar of Assent, a piece of work which challenged they typical religious beliefs of Catholic theologians at that time. In 1879 he was made Cardinal-Deacon of San Giorgio al Velabro.
Here is one of his most famous poems, Lead Kindly Light. It was set to music and has become a popular hymn: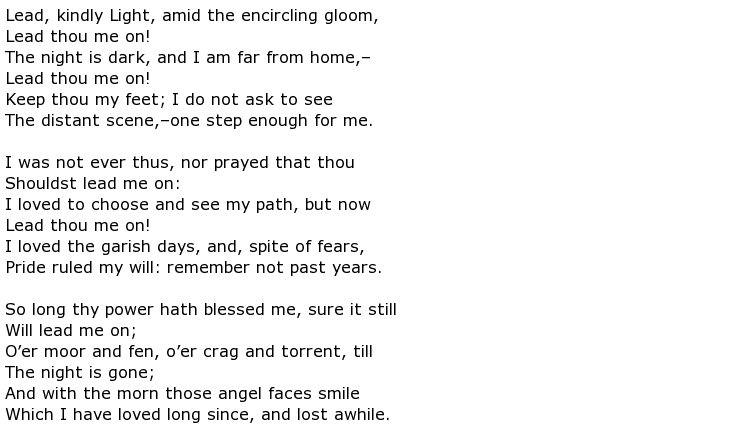 Not long after becoming a Cardinal his health began to fail and he spent his final years in England.
John Henry Newman died of pneumonia at the Birmingham Oratory on the 11th August 1890, aged 89.