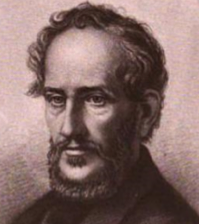 John Howard Payne was a US poet, songwriter, playwright and actor.  His most well known piece of work was a song written in 1822 called Home! Sweet Home!  An Englishman wrote the music for this piece which was part of Payne's opera Clari, or the Maid of Milan and the words



are very familiar even today, all over the English-speaking world.  Most of his theatrical successes came in England.
He was born on the 9th June 1791 in New York City into a large family of nine children, seven of which were boys.  He grew up though in Boston where his father was head teacher of a school and he demonstrated an interest in literature and the theatre from an early age.  However, his first employment, at his father's insistence, was with a New York firm of accountants but his heart was never in that.
At the age of 14 he had already published a journal of theatre criticism called



and he followed this with a light comedy play called



It was staged for a short time but soon closed.  Payne, though, had come to the notice of a well-off New Yorker called John E. Seaman who recognised his potential and paid his tuition fees at the Union Arts College.  Payne's literary talents were soon put to work on a campus newspaper called Pastime.
His mother's death and his father's business failure, both events coming close together, persuaded Payne that he should not complete his studies at the Union and should, instead, try to forge a career on the stage.  Towards the end of February 1809 he was in a New York production called Young Norval and this was the start of great things for him.  This time his talent was recognised by the English actor George Frederick Cooke who mentored him for a while before suggesting that he should try his luck in the London theatres.
Payne did not arrive in London until early 1813 but he soon made a name for himself and then had the chance to study French theatre in Paris.  He translated a number of French plays into English and also wrote his own material, including an 1813 play called Brutus.  His big breakthrough came ten years later when he wrote the lyrics to songs that would be included in his Clari opera.  This became an incredibly popular production, particularly liked for his song



and the opening verses to this piece are reproduced below: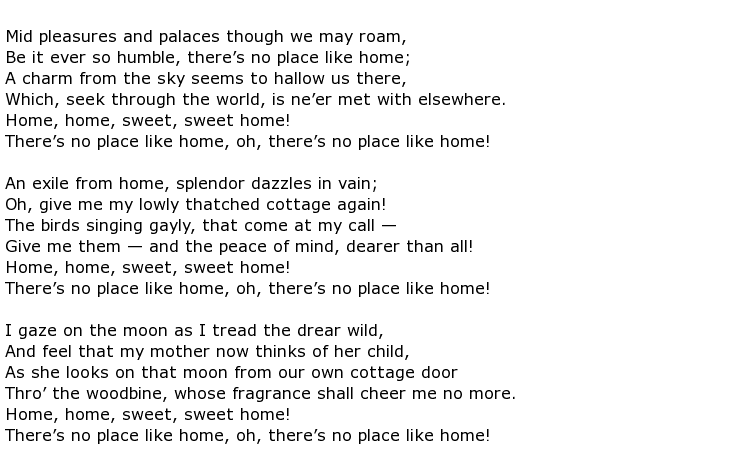 This ballad had originally been written as a sentimental piece of poetry but when paired with Sir Henry Bishop's music, written in an Italian folk style, it rapidly became a very popular song and sold a considerable number of copies, making the publishers and theatres a great deal of money.  Unfortunately the author did not profit much from it due to his poor business sense. Nevertheless he was a popular man in London literary society, known as a



Payne enjoyed some twenty years in Europe before returning to New York where he took up the cause of the Cherokee Indians who were being forcibly moved from the south eastern territories of the United States against their will.  His work on their behalf, and numerous meetings with the tribal chief named John Ross, produced a great deal of written material which was mostly unpublished.  He worked tirelessly to publicise their plight although he was, ultimately, unsuccessful.  He always maintained that they were one of the Lost Tribes of Ancient Israel, a theory that could never be proved.
John Howard Payne died in the North African city of Tunis on 10th April 1852 at the age of 60.  He had been sent there as American Consul and spent the last ten years of his life in this post.  His fame as a writer stems from that famous song mentioned above, a piece that became extremely popular amongst Civil War soldiers, obviously pining for their homes.  After his death many tributes were paid to him, one poignant example being