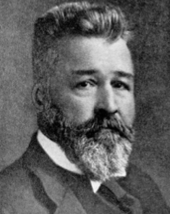 John Jay Chapman  was an American writer who was a passionate abolitionist and who wrote in strong terms about the "get rich quick" attitudes of those who sought to profit from a post-Civil War America, during the so-called "gilded age".  He was also a practicing lawyer for ten years of his life.
He was born on the 2nd March 1862 in New York City, into very comfortable circumstances.  His father was a stock broker who eventually rose to become the president of the New York Stock Exchange.  He took his mother's maiden name as his middle name.  His family history was populated with notable figures from American history, prominent in such fields as the Anti-Slavery movement, the US Supreme Court and the diplomatic service in Europe.
Chapman received a good education, firstly at a New Hampshire boarding school called St Paul's, in Concord, and then at Harvard.  He graduated from there in 1884 and went on a grand tour of Europe before returning to Harvard once more to study law.  There was one shocking incident here regarding a brawl amongst students that led to Chapman having his left hand amputated.  He was so disturbed by the altercation that he dramatically forced his hand into a fire, thus causing irreparable damage to it.  Despite his handicap he  completed his studies and qualified as a lawyer.  He was admitted to the bar in 1888.  His primary interest though seemed to be writing and he became best known as an essayist, as well as a forceful public speaker, of some renown.
He wrote about injustice and was also a skilled orator.  On one notable occasion, in 1912, he stood up in Coatesville, Pennsylvania and spoke out against the recent lynching of a man named Zachariah Walker.  His speech contained memorable lines;  he described the event as



and accused everyone who heard it of being "involved in the guilt". The transcript of this powerful speech was published under the title A Nation's Responsibility.
He was no less outspoken when the First World War began and many of his poems were written on this theme.  A good example was his



where he espoused the need, and the necessity, for the United States to play its part in this terrible conflict.  He stressed that old separations and disputes should be put aside, as emphasised in the line



The opening verses of this stirring poem are reproduced below: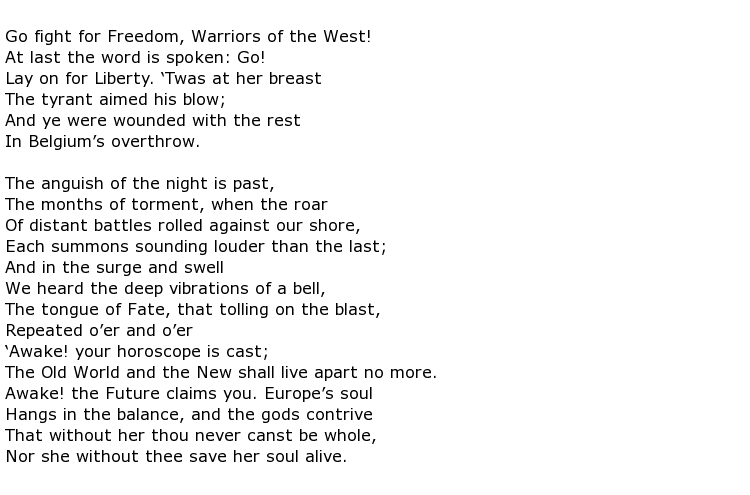 Chapman was married twice.  His first wife Minna bore him three children but she tragically died giving birth to the third, in 1898.  He quickly remarried, his second wife being Elizabeth Astor Winthrop Chanler, a member of the influential Astor family.  Only one child came of this marriage.  Perhaps the strain of recent events led to a nervous breakdown in 1901 and he restricted his literary efforts for a while to writing plays aimed at children.  He eventually rediscovered his passion though and, in the end, was responsible for the publication of 25 books, one of which was a biography of a leading abolitionist called William Lloyd Garrison, published in 1913.  A collection of his poetic work came out in 1919 under the title Songs and Poems.
John Jay Chapman died on the 4th November 1933 in Poughkeepsie, New York, at the age of 71.  He was mourned by hundreds at his funeral.