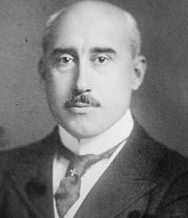 John Kendrick Bangs was an American writer of mostly humorous poetry and prose who spent some time as an Associate Editor on Life magazine, this being a good outlet for a lot of his work during the late 1880s.  He also held editorial positions with the Harper's group of magazines.  He might have become a politician as well but failed in his attempt to become the Democratic Party's Mayor of Yonkers.  The man that beat him to that position offered him a seat on the Board of Education which Bangs accepted.
He was born on the 27th May 1862 in the Yonkers district of New York City, the son of a prominent New York lawyer.  His literary ambitions were stimulated by his time at Columbia College, becoming the editor of college magazine Acta Columbia.  He also submitted humorous pieces to other magazines at the same time, usually using a pseudonym.  He graduated in 1883 with a Bachelors' degree in Political Science.  Perhaps encouraged by his father he then enrolled at Columbia Law School but lasted only one year, in favour of joining the staff of Life magazine.
Bangs also began publishing books at this time as he continued with magazine life.  Editorial spells with Harper's Magazine, Harper's Bazaar and Harper's Young People followed, specialising in the editorship of the Humour departments on all three titles.  By the turn of the 20th century he was active editor of Harper's Weekly but, by 1901, he had left the Harper and Brothers' organisation to further his editorial career at other publications.
As a humourist it was inevitable that Bangs should become involved with Puck magazine, becoming editor of this publication in 1904.  At that time it was recognised as the leading humorous magazine in the United States.  During the summers of the years 1901-06 it is recorded that he entertained guests at a New Hampshire hotel called Profile House with his jokes and pranks, making him an extremely popular person around the establishment and surrounding guest cottages.
His literary output was considerable, beginning in 1886 with a witty book called The Lorgnette.  His first collection of poetry was



, published in 1892.  Other humorous titles include



 (1902) and



(1907).  He also dabbled in ghost stories to some degree although he injected humour into these titles as well, an example being his 1898 book Ghosts I Have Met and Some Others.  Here is an example of his poetry, a quirky little piece called



Bangs had his serious side though, becoming a popular orator at various locations.  He even travelled to Europe to lecture troops and members of the Young Men's Christian Association at the front line in France towards the end of the First World War.  He was married twice, his first having ended after nearly twenty years when Agnes, his wife, died.  She had borne him four children and Bangs remarried four years later to Mary Gray.
John Kendrick Bangs died on the 21st May 1922 in Atlantic City, New Jersey, at the age of 59.  He had been suffering from stomach cancer and was unable to fight it off.