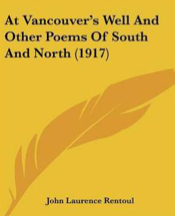 John Laurence Rentoul was an Irish-born Australian poet and Presbyterian minister.
He was born on the 6th July 1846 in the small village of Garvagh in County Londonderry, the son of a clergyman.  He was given a decent education culminating in the award of a Bachelors' degree from Queen's College, Belfast in 1867.  He followed this with his Masters' the following year, gaining first class honours in economic science, history and English Literature, the latter earning him the additional honour of a gold medal.
Rentoul must have had ambitions to make a career in the literary world but first, perhaps influenced by his father, he became the Presbyterian incumbent of a church in Southport, Lancashire in 1872.  Six years later he was married and the couple were given a great opportunity in Australia the following year.  They arrived in Victoria in 1879, Rentoul having been nominated for the post of minister at St George's Church in St Kilda.  He was soon involved in academic life at Ormond College which was part of the University of Melbourne and, within five years, he was appointed professor of theology, specialising in Old Testament Criticism, Hebrew, Christian Philosophy and New Testament Greek.
Rentoul made a great success of this and took up the many challenges with great vigour and enthusiasm.  Curiously this outwardly gentle man was given the nickname "Fighting Larry" but he was never an aggressive or confrontational man.  He gained a Doctor of Divinity degree in 1884 and rose to the position of moderator-general of the Presbyterian Church of Australia in 1912.  This only lasted for two years though when he joined the Australian Imperial Forces as Chaplain-General.
Besides a busy life as a minister Rentoul was a prolific author of poetry, much of it about the glories of his adopted land, and he also produced a number of pieces of religious prose.  Collections of poetry included From Far Lands; Poems of North and South (1914) and At Vancouver's Well and Other Poems of South and North, published in 1917.  His most famous piece of work was a poem simply called Australia and this was included in an anthology called The Oxford Book of Australasian Verse.  Here are the opening verses of this stirring piece: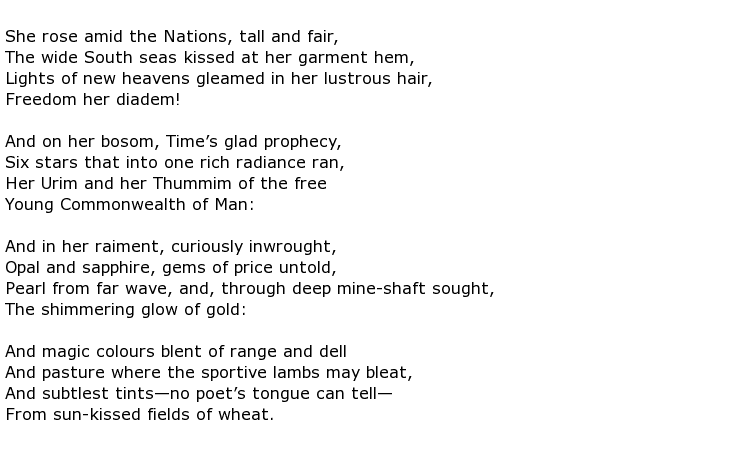 Rentoul was both a popular writer and an able and much-respected clergyman.  He was an academic, often modest man who had a great talent as an inspiring orator.  He was passionately interested in the history and the trials and tribulations of oppressed people such as the Australian Aborigines and New Zealand Maoris.  He also showed his strong support for the Boers during the Second Boer War of 1899-1902 between rebel forces and the soldiers of the British Empire.
Unfortunately his later years found him weighed down with family problems.  His wife needed constant care following an accident and his youngest son had suffered a mental breakdown under the strain of studies for a final examination.
John Laurence Rentoul died on the 15th April 1926 at the age of 79.  He was buried in St Kilda cemetery, the place where his Australian adventure had begun 47 years earlier.  He was survived by his wife and four children.