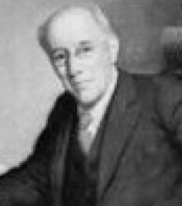 John Le Gay Brereton was a poet, university professor and literary critic from Australia.  He was one of the few Australian scholars of Elizabethan literature of his day.
He was born on the 2nd September 1871 in Sydney, the youngest of five sons.  His father was a physician who also happened to be a published poet of the same name and both parents had emigrated from England in 1859.  They gave their son a good start in life with schooling at the Sydney Grammar School followed by a BA course, reading English, at the University of Sydney, graduating from there in 1894.  While at university Brereton was a budding writer, taking up the editorship of Hermes, the students' literary annual.
Only two years after graduating he had two books published.  One was called



and the second



Neither attracted a lot of attention in the literary world but he was not discouraged.  A second volume came out in 1897 called



In 1899 he published a book of mostly prose, this being an account of a walking tour with fellow writer Dowell Philip O'Reilly, under the short title Landlopers.  It was not possible, at the time, to make a living simply from writing so Brereton returned to his university to work, in 1902, and eventually became Chief Librarian.
Brereton persisted with his poetic output though and, in 1908, Sea and Sky was published to great acclaim.  Shortly after this he focused for a time on dramatic works and he produced a scholarly piece called



in 1909.  This encouraged him to have a go at writing a short play of his own.  The one-act verse play



is generally believed to be the best of its kind by an Australian writer of this era.  The terrible events of World War I prompted him to write a short collection of poems called The Burning Marl, this being published in 1919 and dedicated to



Here is a short example from this book, a poem called The Dead: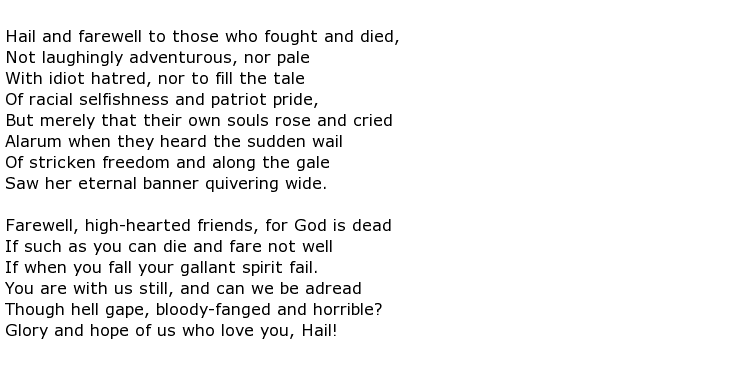 Brereton's academic life began with his appointment as professor of English Literature at Sydney University in 1921 but he continued to write and several more pieces of work were published, including another one-act play called



(published 1931).  He also submitted a number of items in the form of letters or poems to the Sydney Morning Herald, but he occasionally used the pseudonym "Basil Garstang" for these.  Earlier in his life he had supplied the Bulletin and the Sydney Quarterly Magazine, amongst others, with poems and short stories.
As was universally fashionable during the early 20th century, Sydney had a number of close-knit literary circles of which Brereton was an enthusiastic member.  He made friendships with other well-known writers such as Christopher Brennan and Henry Lawson.  He was something of a Bohemian character, being easily recognisable at university as one of the few men who never wore a hat.  He was always happy to encourage new writers and became the first president of the newly formed Fellowship of Australian Writers when it was created in 1928.
John Le Gay Brereton died on the 2nd February 1933 at the age of 61.  He had been on a caravan tour of New South Wales and was succeeded by his wife Winifred and their five children.