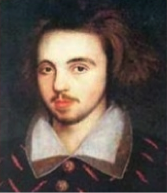 John Lyly was a 16th century English writer who considered himself a playwright at first but who, later on, switched to poetry. He is best remembered though for two novels: Euphues, The Anatomy of Wit (1578) and His England (1580). He invented a whole new style of writing which became known as "Euphuism", in honour of his first book. It has been said that some of his romantic writing influenced the work of William Shakespeare. Besides writing he served as a Member of Parliament in three different constituencies over a twenty year period.
He was born, according to some accounts, in the Kentish town of Canterbury sometime around 1553. The family were reasonably well off, his father being the Registrar for Matthew Parker, the Archbishop of Canterbury. Lyly's mother originated from a country estate in the North Riding of Yorkshire called Burgh Hall. Over a fifteen year period his mother had eight children in all. John received a good education including a spell at Magdalen College, Oxford from where he graduated with a bachelor"s degree in 1573. He followed this up with a master"s in 1575.
In between the two degrees he applied for a Fellowship at the college, hoping that Lord Burghley would assist him with it. He was, though, unsuccessful and one reason may be that he was rusticated at one point. It seems that university studies were not to his liking, even though he had sufficient academic prowess to obtain two degrees. He was known as a witty individual, both in company and in his writing.
His popularity as a writer was growing though, especially when he abandoned the novel form in favour of plays and poetry. He hoped that this new venture would help him to obtain a place at court in the position of Master of the Revels but, alas, he was unsuccessful in this venture as well. His work was performed for the Queen though between the years 1584-1591 and was seen as lively and contemporary, in that real people and events of the day were often portrayed in an amusing way.
Lyly began his parliamentary career as MP for Hindon in 1580 and followed this representing the towns of Aylesbury (twice) and Appleby. He petitioned the Queen twice over a number of years, pleading with her to be accepted at court in some capacity. There is some evidence that he received "Her Majesty's grace", and some kind of reward, but it seems that he was never appointed to any official royal position which is what he craved for many years.
One proverb that is still in use today has been attributed to Lyly, coming from his first book Euphues. "All is fair in love and war" is a common saying and probably immortalises the name John Lyly. He wrote at least six comedy plays in the ten-year period from 1584 including one called Sapho and Phao and here is the poem from that play which he called Sapho's Song. It's a tale of romantic love between two women: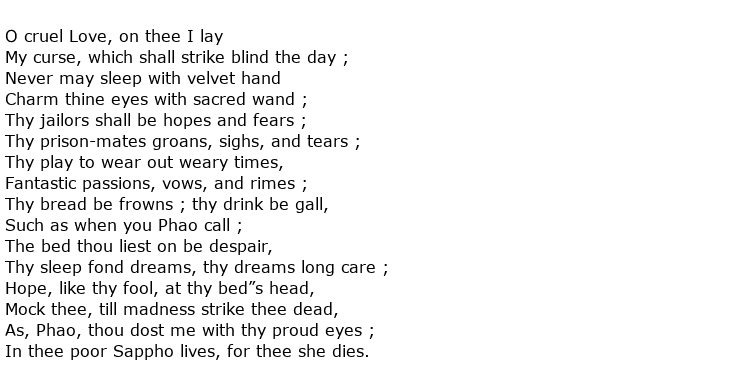 By 1590 his work was much less fashionable and his fortunes declined along with his reputation as a poet. He survived into the reign of James I but died in November 1606. He was aged 53 and was a poor man, neglected by those who had once lauded him.