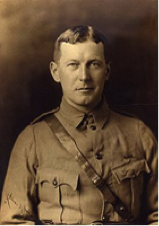 The name of John McCrae will be, forever, associated with his famous poem In Flanders Fields which was reportedly written the day after the funeral of a close friend who was killed at the second Battle of Ypres in May 1915. Lt Alexis Helmer had been a former medical student of McCrae's and his death affected him so much that he penned the poem as a tribute to the many fallen. The idea of using the millions of red flowering poppies that featured strongly in this poem was probably inspired by an account of a 17th century battle nearby. The historian Lord Macaulay wrote, in 1855:



McCrae's poem was at first discarded but later recovered and sent for publication to the magazine Punch where it was published anonymously, though later that year the name John McCrae appeared in the credits for articles submitted.
In a way it is strange that he should be remembered most for a short poem when, in truth, his greatest achievements were firstly as an artillery soldier and secondly a great physician. He was born into a military family, in comfortable surroundings, in Guelph, Ontario in the year 1872. His father was a Lieutenant Colonel in the Canadian Army so it was inevitable that John would follow his lead eventually. Even while studying for his BA at the University of Toronto, he was a member of the local militia, rising to the rank of Captain.
Perhaps as a foretaste of what was to come, McCrae suffered badly with asthma and had to take a year out of his studies. He recovered though and went into teaching at the age of 22 while also retaining an interest in military matters. Resuming his BA studies he followed this up with studying medicine which eventually led to him becoming a renowned physician.
His first poems were published in 1894 but most of his time was taken up in pursuing his medical career, both as a teacher and as a resident at a number of Canadian locations. In 1904 though he went to England and was appointed to the Royal College of Physicians. Only a year later he was back in Canada filling a succession of medical posts. When he was called up to serve in the Second Boer War he joined the artillery company but returned to medicine after that.
When Canada joined the Allies fighting in France in WW1 McCrae once again found himself with the Canadian artillery, working as a surgeon at a front line field hospital. He was able to witness at first hand the horrors of war and wrote a number of poems on the subject. He was happy to be working in this environment though and was disappointed when he was taken away from "his beloved artillery" to set up a new hospital in Boulogne. He reportedly said of the move:



His fame was spreading both as a poet and as a physician but, unfortunately, ill health struck him down once more. This time though it was fatal; he contracted pneumonia with "extensive pneumococcus meningitis".
John McCrae died on the 28th January, 1918, aged 46. He was buried with full military honours near Boulogne, in the Commonwealth War Graves Commission section of Wimereux Cemetery.
In conclusion, here is the moving poem In Flanders Fields which was McCrae's most famous work: