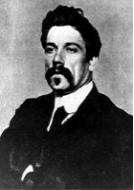 John Millington Synge was a controversial Irish writer whose plays often found him at odds with the public, in particular those with strong Irish nationalist feelings. The production that many have considered to be his finest work, a play called The Playboy of the Western World, actually caused riots when it was performed in Dublin and was described in such terms as:

A comedy that featured patricide it was also reported to be:

Despite his stormy career as a playwright Synge was considered to be one of the key figures of the Irish Literary Revival. He wrote poetry, prose and travelogues, and he was an avid collector of Irish folklore. He was a keen student of the people of rural Ireland, especially the Roman Catholic peasants who, he felt, exhibited a pagan view of the rest of the world.
He was born Edmund John Millington Synge on the 16th April 1871. His privileged family was a part of Protestant middle class society in Rathfarnham, County Dublin. Synge developed an early interest in nature and ornithology and his first written work, while still a child, was a diary noting down his thoughts about the natural world. When he started to write poetry some described his style as very much like that of William Wordsworth.
His early education was at a private school on the family estate and continued at other establishments in Dublin and Bray. While writing would become his first love, he also had a musical talent and studied at the Royal Irish Academy of Music. He was given the opportunity to enhance his studies by travelling around Europe but he returned to Trinity College Dublin and graduated with a BA in 1892.
His interest in the natural world was sparked, at the age of 14, by reading a book by Charles Darwin which also changed his religious ideas dramatically. He said that, having read Darwin, he then turned his attention to:

As he grew older he consciously turned turning away from religious studies altogether, focusing instead on the problems endured in Ireland.
In his early twenties he moved to Paris so that he could study literature and languages. He always went home to Dublin for holidays and, one summer, he proposed to a woman twice. She rejected him twice on religious grounds and this made him determined to spend as little time in Ireland as possible. He had strong influences in France from the likes of W B Yeats and he was encouraged to join in with the setting up of the Irish National Theatre Society. Yeats also urged him to spend time on the Aran Islands, collecting Irish folklore stories and developing his writing style. Here is an example of his work, a poem called Beg Innish, which describes life in a rural and fishing community: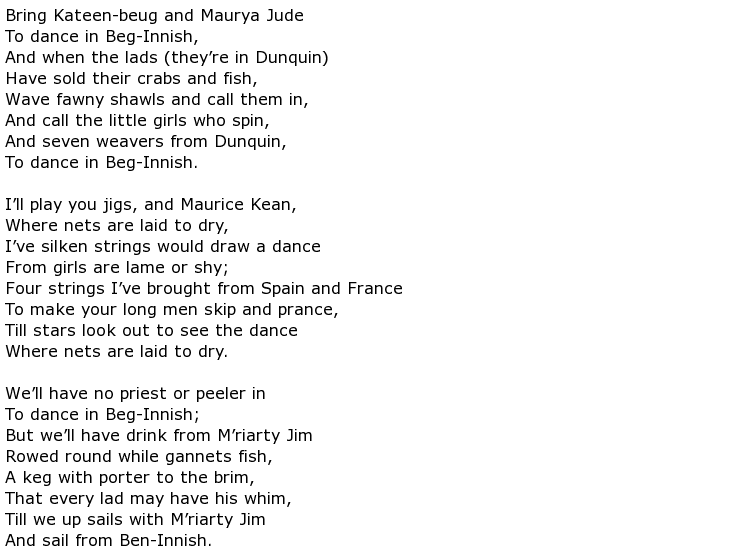 Unfortunately his health was not good and he suffered an attack of Hodgkin's disease at the young age of 26. Despite this though he studied hard while on the islands and went on to write at length about the struggles of peasant farming and fishing.
One could sum up John Synge as a somewhat enigmatic man who was, physically, unattractive to women but who often sought their favour, usually unsuccessfully. Critics and fellow writers described him as an angry man, clinging on to life as best he could in the face of adversity. Hodgkin's disease would soon claim his life.
He died on the 24th March 1909, aged 37.