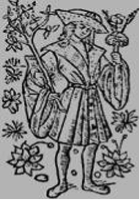 John Skelton was an influential poet and scholar who was, in the last decade of the 15th century, appointed tutor to the young Prince Henry. The Prince grew up to be King Henry VIII and appointed Skelton as his Poet Laureate for a time. It has been said that Henry considered Skelton to be his favourite teacher which would explain how he managed to evade censure in later life for his controversial views and writings. As Poet Laureate he was entitled to sign his name as "regius orator" and he was favoured with regular attendance at the Royal court. Eventually though he voluntarily left that privileged circle to become the rector of Diss. In his earlier years as a priest he did occasionally suffer imprisonment which was not unusual at this time of course.
Some doubts surround John Skelton's early life but it is believed that he was born in 1460 in the Norfolk town of Diss. He almost certainly attended both Oxford and Cambridge universities. He wrote a great number of poems and articles, often of a sarcastic, cutting nature against many in the establishment while managing to retain his status and liberty for most of his life.
While serving as rector of Diss he regularly courted controversy. It was said that he married a woman in secret and lived a life of such debauchery that a collection of tales were told about him following his death. They were known as "The Merie Tales of Skelton" though there is, as with many stories around these times, some doubt as to their authenticity. He did, though, make a number of enemies amongst fellow clergymen, not least of which was the powerful Cardinal Wolsey. Skelton's writings often referred to Wolsey in disparaging terms, although much of it was in sarcastic terms. It was even suggested that the King himself put Skelton up to it and there is a ring of truth about that. An example, in 1522, was when Wolsey dissolved the Convocation of St Pauls cathedral and Skelton wrote:

Skelton provoked the wrath of the cardinal many times and often had to seek sanctuary, including placing himself under the protection of the Abbot of Westminster Abbey at one point. Maybe it was because he had powerful friends such as the King and the Duke of Norfolk amongst others that he managed to hold on to his liberty.
However, despite such patronage, he wrote many satirical pieces against the workings of the Court. A good example was The Bowge of Court which was an epic poem highlighting the intrigues, the vices and indiscretions that he had witnessed during his time there. The last two verses are added here and in one line he refers to having:

…thus making it obvious what he thought of (some) royal courtiers: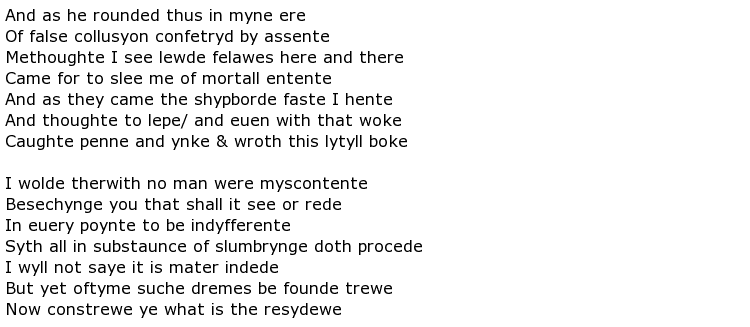 As the 16th century drew to a close Skelton was described in derogatory terms by one critic as a "rude rayling rimer". It is incredible that he managed to publish his opinions on the clergy and the Court in the way that he did and yet, on the whole, get away with it. These were times, let us not forget, when people were imprisoned and executed for much less serious "crimes" of thought, belief or deed. He was clever though in his criticism, not pointing the finger at the whole, but only at some of the rotten parts.
In addition to his prodigious output of poetry, Skelton was also a playwright, with familiar themes of morality and attacks on the apparent riches of the Church very much to the fore.
John Skelton died in June, 1529 in Westminster at the ripe old age (for Tudor times) of 69.