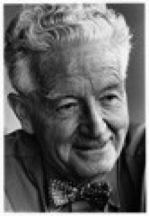 John Sleigh Pudney was a 20th century English poet, fiction writer and journalist.
He was born on the 19th January 1909 in a small village called Langley Marish, Berkshire.  His parents were able to send him away to be educated at Gresham's School in Holt, Norfolk and it was here that his love of literature was nurtured.  Friends at school included future writers W H Auden and Benjamin Britten.  Pudney did not, perhaps, make the most of the education that was offered to him as he decided to leave at the age of 16.  His first forays into the world of work included spells at the BBC, writing scripts and producing radio programmes.  He also worked as an estate agent, but his driving ambition was to become a writer.
He secured a post as a journalist with the News Chronicle and he was soon getting poetry, short stories and novels published.  His first two collections of verse came out before the Second World War under the titles Spring Encounter and Open the Sky.  He also had a novel called Jacobson's Ladder and two collections of short stories to his name.  When war broke out he joined the intelligence department of the Royal Air Force as a commissioned officer and was also employed at the Air Ministry in London in the Creative Writers Unit.  Part of his work there was to write accounts of the lives of RAF pilots in an easy to understand, interesting manner that would appeal to the general public.
A posting to St Eval in Cornwall afforded him the time to write some of his best work which included the evocative poem For Johnny.  It can be counted amongst his best known poems and was his view of the troubles and strife borne by Londoners under siege from air raids during the early years of the war.  The poem first appeared in a newspaper called the Daily Chronicle and was even quoted by the actor Michael Redgrave in the patriotic war film called The Way to the Stars, released in 1945.  It is a short piece, typical of his style of poetry which is usually in rhyming couplets, portraying a brief, to-the-point message which hits home to the reader instantly.  It would eventually appear in a number of anthologies of war poetry.  The piece is reproduced here: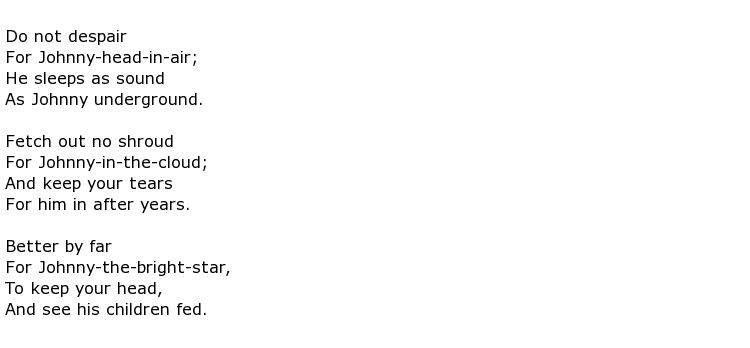 Pudney tried his hand at politics, standing as Labour Party candidate for the Kent seat of Sevenoaks in July 1945.  He did not gain election despite winning nearly 15,000 votes.  Instead he concentrated on publishing work, magazine editing and, of course, his writing.  In 1953 he also wrote a documentary film called Elizabeth is Queen, obviously in celebration of the recent coronation, and he won a BAFTA award for this work.
Throughout his lifetime he was a prolific writer with his tally of poetry collections numbering over 20.  He wrote two plays along with a great deal of short stories for both children and adults.  He even wrote a history of the humble lavatory, called The Smallest Room.  Pudney was twice married.  His first was in 1943 and his wife Crystal gave him three children.  Unfortunately they were divorced in 1955 and he married again shortly after.
John Sleigh Pudney died on the 19th November 1977 at the age of 68.