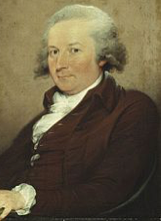 John Trumbull was an American poet and lawyer whose most famous work, the multi-part M'Fingal, picked him out as a notable political satirist at the time of the Wars of Independence.  He was also a well-respected attorney in both Massachusetts and Connecticut as well as serving as a state legislator and judge.
He was born on the 24th April 1750 in Watertown, Connecticut, although it was known as Westbury at that time.  His father was a Congregational minister and he showed remarkable academic promise from a very early age.  He had already passed the entrance exams for Yale at the age of 7 but did not take up a place there until the age of 13, in 1763.  He graduated from their four years later.
He was a prolific essay and verse writer while at college and he had a number of pieces published in a variety of publications including the Boston Chronicle and the Connecticut Journal, writing under pseudonyms such as "The Correspondent".  His work at this time could be placed into two categories.  On the one hand he borrowed from the Neoclassical school to write fairly undistinguished but "correctly" constructed elegies whilst, on the other, he produced light, witty verse mostly for the entertainment of his friends and fellow writers.
Trumbull worked as a tutor for a time and was fiercely critical of the educational system.  He satirised it with a three-part poem called The Progress of Dullness, published during 1772 and 1773.  He really became famous though with the first canto of M'Fingal, sub-titled The Town Meeting, which was dated 1775.  Here is the first verse from this epic, Pro-Whig work which ran to four separate cantos: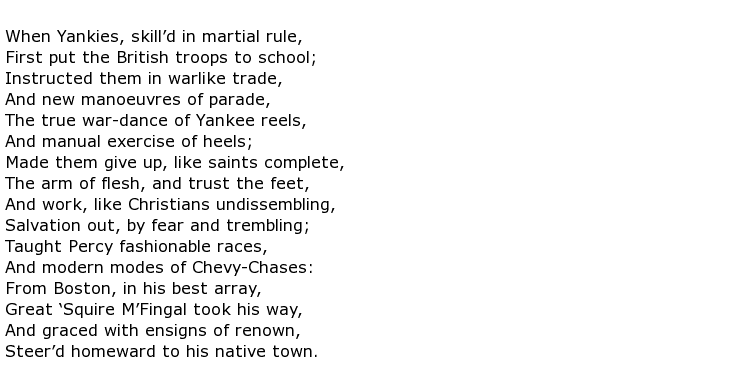 It was a serious and well-received piece of work, attacking both the American government of the time and British soldiers in equal measures.  The fourth canto, The Vision, mocks the apparent pageantry of war and also criticises the economics of this long and bloody conflict in a burlesque-themed ending to the canto titled



Trumbull became a leading light amongst the so-called "Hartford Wits" after the war, writing with contemporaries such as Lemuel Hopkins and David Humphries.  He was a committed Federalist by this time and attacked those recognised as enemies of strong government in a poem called the Anarchiad.  After this though his influence in literary fields diminished as he concentrated more on his legal work from about 1782 onwards.  Having passed his bar exams in 1773, moving to Boston where he practiced, he worked his way up to state attorney in 1789 and then progressed to positions as state legislator and judge until around 1819 when he retired.
His work as a writer had been recognised in 1791 with the award of a fellowship to the American Academy of Arts and Sciences.  A number of schools and roads still bear his name, a good example being M'Fingal road in Watertown, his place of birth.
John Trumbull died on the 11th May 1831 in Detroit, Michigan at the age of 81.