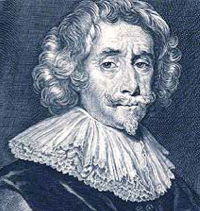 John Webster was an English writer of the Jacobean era who was around at the time of William Shakespeare, being a contemporary of the Bard in that he became a famous poet and playwright.  Webster's best known piece of work is the tragic play



and it is still performed to this day.
Details of his early life are obscure but it is believed that he was born in London sometime during the year 1580, the son of a carriage maker also called John Webster.  It is likely that he was well educated and there are accounts of a man bearing his name entering the Inns of Court in August 1598.  Suggestions that this budding lawyer and the writer are one and the same are borne out by the fact that his play



(along with other works) contains a number of accurate legal allusions and detailed trial scenes.
Webster began to make his mark in theatrical circles during the first decade of the 17th century which was a golden age in Elizabethan theatre, sadly due to come to an end when the Puritans came to power and closed them all down in the early 1640s.  He collaborated with other writers, as was common at that time, often working on one project with a team of writers, although some plays were not considered good enough to be printed, or performed.  He had associations with the famous "King's Men", a troupe of actors who enjoyed the patronage of King James I.  He was also busy composing poetry but he managed to find the time to get married in 1606 to a seventeen years old girl already pregnant with his child.
Webster was just as capable of writing with a light, humorous touch as he was writing serious tragedies in the Italian style.  His two most famous tragedies are



the latter being first seen on stage around 1614, performed by the King's Men.  This was very popular, being aimed at a more discerning audience at the Blackfriars Theatre, whereas the other play was initially performed in the open air Red Bull Theatre in front of an audience used to much less complex fare, thus proving unpopular at the time.
He built a reputation mostly based on the macabre tone of his poetry and plays.  It has been said that Webster constantly sought to explore the dark side of human nature.  Much later on T S Eliot said that Webster always saw



An example of this kind of work in verse would be his poem Death Song and it is reproduced here: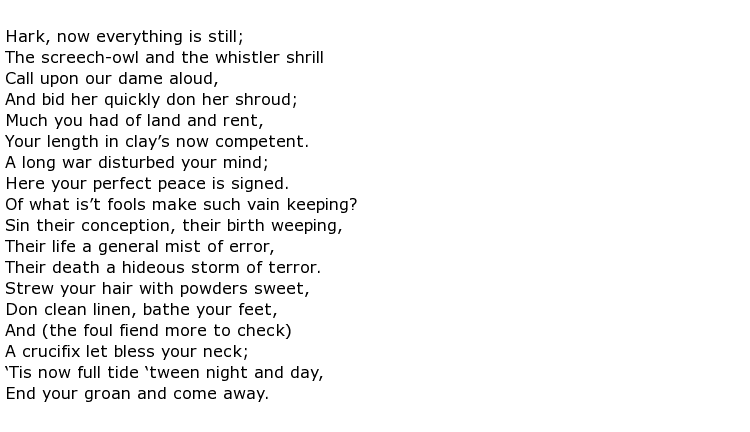 For a long time after his death Webster's work was largely dismissed by literary critics but his tragedies enjoyed a resurgence in popularity during the 20th century.  Some have suggested that the violent and pessimistic messages within these plays was better understood after the horrific wars that the world experienced at that time.  His body of work was certainly substantial, although the quality diminished somewhat after Malfi.  This reflected the standards shown by other writers leading up to the period of darkness in the theatrical world brought on by the Puritan backlash against any source of popular entertainment.
It cannot be confirmed for definite but it is believed that John Webster died sometime during the year 1634, which would have made him 54 years old.