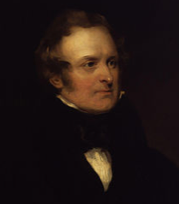 John Wilson FRSE, also known as John Wilson of Elleray, was a Scottish writer, academic, literary critic and advocate.  He made many contributions to a periodical called



using the pseudonym Christopher North.  During the final two decades of his
using the pseudonym Christopher North.  During the final two decades of his life he served as



He was born on the 18th May 1785 in the lowland town of Paisley, Renfrewshire, the son of a wealthy gauze manufacturer of the same name.  As was so common in those days John lost his father when he was still a young boy but he was part of a large family of ten children.  A bright boy from an early age, he gained a place at the University of Glasgow in 1797 where he studied and excelled at sports for the next six years.  His efforts then took him up to Oxford University, entering the Magdalen College as a "gentleman commoner" where he attained a first class honours degree in 1807.
At first he found himself in very comfortable circumstances, not needing to earn a living, and he spent the next four years on a Lake District estate near Windermere called Elleray.  Besides writing poetry and collecting pieces written by others such as Robert Southey and William Wordsworth he enjoyed the country pursuits on offer, such a shooting, fishing and boating.  All this changed though when he suffered a dramatic loss of income and this encouraged him to use his writing talents for financial gain, as well as studying to be a lawyer.  Having married in 1811 he found himself back in Edinburgh, with his new family, living with his mother.
By 1816 he had published two collections of poetry, the second one called



this also being the title of a play.  The following year he began writing, as "Christopher North" for Blackwood"s Magazine and was very successful in this venture.  Wilson was largely responsible for a long-running saga called Noctes Ambrosianae, a series of humorous, insightful pieces based on conversations around the table in an Edinburgh tavern.  By 1819 he was financially solvent once more and he set up home, with his wife and five children, in his own house.
Controversy surrounded his election to the chairmanship of the university's Moral Philosophy department in 1820.  It was believed that powerful political backers ensured that he secured the position ahead of better qualified candidates.  He did, however, make a success of it and was a great influence on many students that passed through his hands.  His new circumstances allowed him to spend time at his beloved Elleray estate on occasions and his love of the countryside in that area is reflected in a number of his poems.  Here is a good example of Lakeland poetry, a piece called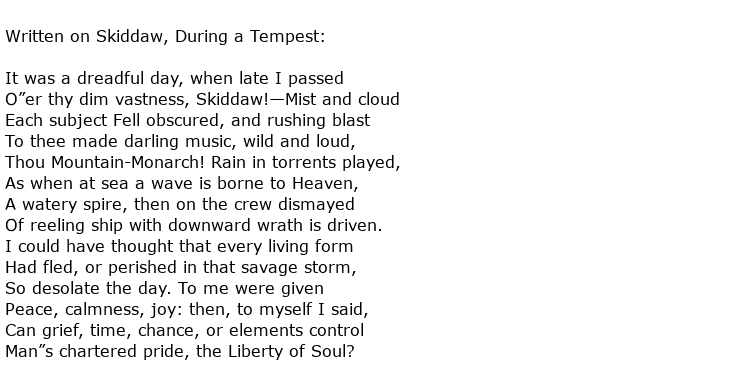 This poem is a dramatic reminder that the serenity and beauty of the lakes is a constant companion to the violence and unpredictability of the weather often found on the mountain peaks and high fells of this region.  He wrote many poems about the area including



His idyll was tragically interrupted in 1834 when his dear friend Blackwood, of the magazine, died and then he lost his wife three years alter.
His idyll was tragically interrupted in 1834 when his dear friend Blackwood, of the magazine, died and then he lost his wife three years alter.
John Wilson died on the 3rd April 1854 at his home in Gloucester Place, Edinburgh.  He was 68 years old.  He was held in such high esteem in Edinburgh that a statue was erected in his memory in a prominent position in Princes Street Gardens.