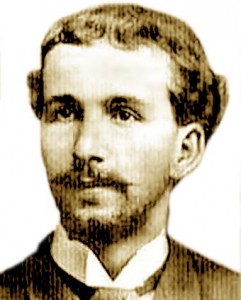 Born in Bogota, Columbia, in 1865, Jose Asuncion Silva was a poet who, through his tragic life, is regarded as having helped to found the modernist movement in South America. He was brought up in a wealthy and privileged environment and given a good education that instilled in him an early love of poetry. Silva is reputed to have written his first verse at the age of ten but despite this he led a life that was tormented and tragic in equal measures.
He was largely unhappy at school in Bogota and was often bullied by his peers because of his keen intelligence. This may also have had something to do with his appearance as by the age of twelve he was already presenting the image of the perfect dandy, with velvet jackets and silk ties.
It was the specter of death that seemed to follow him throughout his life that caused him greater sadness and permeated his poetry. His uncle committed suicide and a grandfather was the victim of murder. Added to this, three of his sisters and brothers would die before he even wrote his first poem. The misery continued as he grew older.
His rich family lost their fortune and he was deeply affected by the death of his sister, which could only have added to his morbid outlook on life. When he traveled by ship one time his collection of manuscripts was destroyed when the vessel sank. All this may well have contributed to his ability as a poet but it also caused him to find escape through suicide when he was just 30 years old.

In 1882, with his poetic star rising, Silva traveled to Europe where he met other leading lights of the literary world such as Mallarme and Moreau in Paris. This would greatly affect his writing and he may well have stayed in Europe had not news of his father's death reached him that forced him to return home. There he found his family facing financial ruin and was driven to take a job as a diplomat to help pay for the mounting costs.
It was a lost cause however and the debts continued to grow out of control. His friends in Columbia convinced Silva to return to his poetry and he did so for a while, writing prolifically. When these works were lost during a shipwreck and his sister died, the loss was probably too much for him. Silva was found dead the morning after a dinner party, having shot himself through the heart.

Perhaps his best known surviving work is the free form poem Nocturnal that was published after his death in 1908. He had eschewed the traditional Spanish way of writing poetry and this widely read work showed many of the characteristics of modernism. It had been composed after the death of his sister and is filled with melancholic references and symbolism that marks it out as one of the great love poems of the twentieth century.