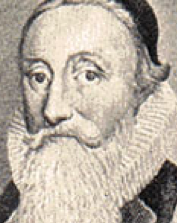 Joseph Hall was an English satirical poet and clergyman who rose to the rank of Bishop despite being a controversial character throughout his life.  Many saw his work as being a direct attack on the establishment during the latter years of the Elizabethan age but, in truth, he was not alone in producing such barbed material and it did not cost him anything more than criticism from some quarters.  He did find himself temporarily incarcerated in the Tower of London though.  It was while at Cambridge in 1597 that he wrote his most famous piece, Virgidemiarum.  This was his satirical take on ancient Latin literature, written in English.  In the prologue to this piece of work he put forward his claim to be the first English satirist with the following words:



He was born on the 1st July 1574 in the Leicestershire town of Ashby-de-la-Zouch, his father being in the employ of Henry Hastings, the 3rd Earl of Huntingdon.  It was a Puritan family and his education at Ashby Grammar School followed these strict guidelines.  A lecturer at the school recognised potential in young Hall and began to prepare him to be a church minister.  He went on to Emmanuel College, Cambridge where he achieved a Bachelors' degree in 1592, going back for his Masters' four years later.
Hall took holy orders and had a choice of posts, opting for a living in Suffolk.  It was a struggle to start with but he prevailed and, in 1605, was given the chance to accompany Sir Edmund Bacon on a visit to Belgium where he intended to educate himself on the current state of the Roman Catholic Church.  He was now a high profile man of the church and was made chaplain to the Prince of Wales in 1608, the first of many prestigious appointments, and he became Bishop of Exeter in 1627.
Hall held Calvinistic opinions which did not endear him to some people and spies were occasionally sent, by others in the church hierarchy, to report on his activities.  He even served a term of imprisonment, in the Tower of London, during the year 1641.  Fortunately the original charge of high treason was downgraded to something much less serious and he was released.  A new appointment in Norwich ended badly when parliamentary forces desecrated the cathedral with many of its treasures being carried off and its books burned in the market square.
Hall went into quiet retirement after this, preaching to small congregations while writing whenever he could, still occasionally courting controversy due to his outspoken views.  The satirical tone that he was known for much earlier in his life had been softened with age but he was not afraid to express his political or ecclesiastical views. His poetry had usually been constructed in heroic couplets, a good example being his famous poem Virgidemarium.  Here are the opening lines to this epic piece: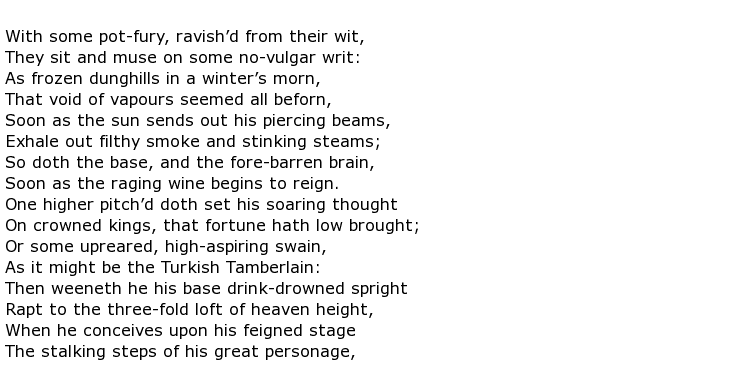 Hall was a prolific writer and other pieces of work included a congratulatory poem honouring King James I on his accession to the throne called



Devotional pieces of work included



Joseph Hall died on the 8th September 1656 having reached the venerable old age of 82.