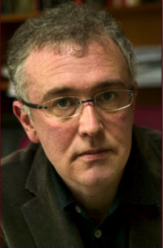 Joseph O'Connor is a multi-award winning Dublin-born novelist, playwright, journalist and broadcaster. At the age of 51 he can look back on considerable success over his lifetime. He comes from a talented family of five children including the well-known singer and songwriter Sinead O'Connor who first came to international attention with her haunting song Nothing Compares to You. Another sister has taken the same path as Joseph, as a published author and academic. Additionally he has two brothers, one of which is a psychotherapist and the other is part of the Sony Music Ireland group.
Born in September 1963, Joseph grew up in a house filled with books by famous Irish, British and American authors and he soon developed a love of literature.   Reading novels such as The Catcher in the Rye inspired Joseph to become a novelist himself. His education included a spell at University College, Dublin between 1981-86. He read history and devoured as much literature as he could and he achieved a masters' degree in Anglo-Irish Literature.   However there was an interruption to his studies when he took a five months sabbatical in 1985 in the Central American hotspot of Nicaragua. He wrote insightful pieces on the outcome of the Sandinista revolution for Dublin publications.
Following his award of a First Class Honours degree from Dublin he took a year in Oxford before moving on to London where he joined fundraising campaigns run by the British Nicaragua Solidarity Campaign, while continuing to write for a variety of London magazines and newsletters. He tried hard to get some of his short stories published but did not succeed until, in 1989, the Dublin Sunday Tribune took O'Connor's Last of the Mohicans. This led to further publications and a sprinkling of awards.
In 1991, after a few false starts, the novel Cowboys and Indians was published and he followed this up shortly after with a collection of short stories called True Believers. O'Connor was greatly encouraged by the reception of his first published novel but he took time out once again, this time to undertake an MA course in screenwriting at the Northern School of Film and Television in Leeds. Returning to writing, he produced three further novels in quick succession while writing the script for a movie version of one of his short stories – Ailsa. This won a number of awards including the San Sebastian Festival prize.
He continues to be in demand as a journalist covering major events around the world.   One prominent assignment was commissioned by The Sunday Tribune in 1994 when O'Connor was sent to the football World Cup tournament, being held for the first time in the United States.   He shadowed a large group of Irish fans and wrote an amusing account of what they got up to following their team.   Add to this the many stage plays that he has written that have been produced at theatres in London and Dublin, some including famous actors such as The Weeping of Angels which featured Brenda Fricker.
Perhaps his famous piece of work to date though is a historical novel called Star of the Sea, written in 2002. Here he introduces elements of Dickens and Eliot into his telling of the tale of a mid-19th century famine ship sailing from Ireland to New York and consists of diary entries, letters and ballads alongside the prose sections. It has become a best seller around the world with sales beyond a million copies. A fictional American journalist, on board the ship, narrates the tragic story and the following is an extract from one of his reports:

O'Connor wrote a sequel called Redemption Falls which continued the stories of some of the original characters and was described by The Guardian newspaper reviewer as 'a major work of modern fiction from an astonishingly accomplished writer'. The Irish Sunday Tribune described it as 'a masterpiece'.
Joseph O'Connor has lived with his wife, who is also an accomplished writer, in New York, Dublin and London. He continues to write while passing on his experience to literature students as a Professor at the University of Limerick.