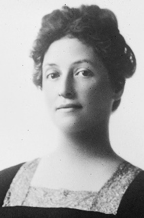 Josephine Preston Peabody was a US poet, English teacher and dramatist.  Much of her work displayed her deep social awareness as well as her interest in spiritual, ethereal subjects.
She came into the world on the 30th May 1874 and lived in the Brooklyn district of New York up to the age of ten.  She was lucky enough to have parents who encouraged her to read and take a real interest in literature and the theatre.  It was a severe blow though when Josephine's father died in 1884 and they were forced to move and live with her grandparents in Dorchester, Massachusetts.  She went to school in Boston at the Girls' Latin School for three years between 1889 and 1892 and she began regularly writing poetry that was good enough for publication.
A poem had already been published in The Woman's Journal the year before she started school and she followed this in 1894 when several of her poems appeared in Scribner's Magazine and Atlantic Monthly.  She was becoming reasonably well known and a patron made it possible for her to attend the Radcliffe Arts College in Cambridge, Massachusetts as a "special student" between 1894 and 1896.  She was encouraged to release her first volume of poetry in 1898 under the title The Wayfarers.  Another collection called



followed two years later.
Peabody tried her hand at writing plays with a one-act play inspired by Shakespeare's sonnets plus a verse play called Marlowe in celebration of the 16th century Elizabethan poet Christopher Marlowe.  All of this work helped her to secure a lecturer post at Wellesley (Massachusetts) College, teaching poetry and English Literature for two years.  Another play called The Piper won her the Stratford-on-Avon prize in 1909 and this was staged in both England and the United States.  It was based on the legend of the Pied Piper of Hameln.
She became a prolific poet with other collections of work including



a collection of poetry for children. The Singing Man, which came out in 1911, showed her ever-increasing concern for social injustice in the world.  What would prove to be her last book, New Poems, was published in 1915.  Like many writers she made a tour of European countries at the beginning of the 20th century and this, no doubt, influenced her writing.  Critics have said that her work could sometimes be compared to that of Robert Browning and Pre-Raphaelite poets such as Christina Rossetti.  There were even Shakespearian influences, especially in her play writing.  Some of her material had an "other-worldliness" about it and her style was invariably delicate, with much clarity of language.
To illustrate this here are the opening verses of Peabody's poem Cradle Song: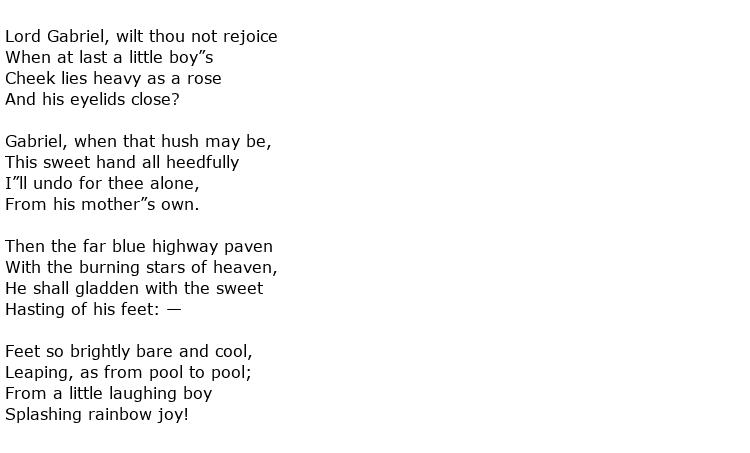 In 1906 she had married a British engineer and Harvard professor called Lionel Simeon Marks and they had two children together, a boy and a girl.
Josephine Preston Peabody died in Cambridge, Massachusetts on the 4th December 1874 at the relatively young age of 48.