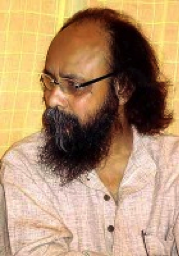 Joy Goswami is one of the best Bengali poets around and writes in the Bengali language. He is a well published writer of the 'post-Jibananda Das era', having some 25 poetry collections behind him. In addition to this he has also written ten novels, one of them written completely in verse. He has also written a book of essays. He runs the poetry section of a big literary periodical in his home country which is called Desh Patrika. Critics have described his writing as sensuous and heavy with imagery, along with stylistically innovative. A poet with so much published work will, undoubtedly, have a string of awards under his belt and this is how it has been for Goswami. Despite his success though he has remained humble, hence his statement:



Joy Goswami came into this world in Kolkata in November 1954 and the family soon moved to West Bengal. He still lives there and attributes his early love of poetry to his father who encouraged him as soon as he could read and write. Sadly Joy lost his father when he was only eight years old after which the family was supported solely by his mother until she died in 1984. Family circumstances dictated that Joy could not continue his education beyond the 11th grade and, on leaving high school, that was the end of his formal studies, and he never went back to them. He was, though, already an avid reader and writer of poetry. By the time he was 19 he had managed to get some published in minor magazines but his work was soon to be seen on a much bigger stage. The influential Desh Patrika periodical employed him in 1976 and his poems were now able to be seen by a great deal more people.
So many people read and enjoyed his poetry there that it was not too long before a first book of poems was published. He called it Christmas o Sheeter Sonnetguchchho (Sonnets of Christmas and Winter). He has often said that his early inspiration for writing, after his father, was the discovery of some of his work by his brother who went on to humiliate the young Joy by reading the poems out to other boys. At first this was a setback to him, but he soon saw it as a spur to carry on only, this time, to be a little more subtle about his diaries and journals. In other words, he decided to write so that his brother would not understand what he had written!  He described his feelings thus:


The overriding themes in Goswami's poetry are nature, time, and the universe and he is under no illusions that his work will change the sadness and tragedy that he sees in his world. His daughter told him once that she thought she was turning into someone who was cruel and all he could think of to do was to stroke her head, reassuring her that he could only console her, not cure her. In the same way his poetry can be a consolation to those suffering terribly, all over the world, but he knows that his words will never stop such things happening.
Here is an example of one of his poems which is heavy in imagery and mystical in parts. It is called One Man:


Joy Goswami is an anguished soul much of the time, but he is a visionary writer who continues to receive the plaudits in his homeland and will, no doubt, continue to write his consoling words, creating powerful images along the way.