Juan Felipe Herrera is a Mexican-American writer who, in 2015, became the first Chicano to be appointed Poet Laureate for the United States.  Additionally he is an accomplished performer and cartoonist and has taught at a variety of higher education establishments in places such as Iowa and California.
He was born on the 27th December 1948 in Fowler, California, the son of Hispanic immigrant farm workers.  It was a hard life for his parents who seemed to be on the move constantly, living in trailers and even tents at different times, as they worked in the San Joaquín and the Salinas Valleys.  Despite the difficulties their son got a decent education, firstly at the San Diego High School, graduating from there in 1967.  He then achieved a Bachelors' degree from the University of California in Los Angeles having studied Social Anthropology.  He continued studying this subject at Stanford, gaining the first of two Masters' degrees.  The second came at the University of Iowa, this time studying Fine Arts in Creative Writing.
Herrera had a strong ambition to be a writer and he has been very successful during his life, having many books published.  These include several collections of poetry and short stories and he has also written and illustrated books for children and young adults.  One of his books for younger readers was called Calling the Doves, a 1997 book recalling his childhood in the farming communities.  He has always held strong views about America's reluctance to allow immigration from Mexico which seems to get harder as the years go by.  He would certainly describe himself as an activist on such matters and he published a book in 2007 called 187 Reasons Mexicanos Can't Cross the Border which included sections in Spanish as well as English.
His work has been strongly influenced by his childhood and university experiences.  He was at university during the 1970s when Beat poets such as Allen Ginsberg and Luis Valdez caught his attention.  He was keen to experiment with his writing, unwilling to be tied down to any particular style or convention.  Naturally he was aware of social injustices and has always exhibited a strong ethnic identity to the world through his writing and speaking.  It has been said that he was one of the first to create a kind of hybrid in art which traversed oral and written presentation, sometimes in English, sometimes not.  Often his poems are hardly poems at all, the following example being written in more of a prose style.  There is still poetry in it though and it is called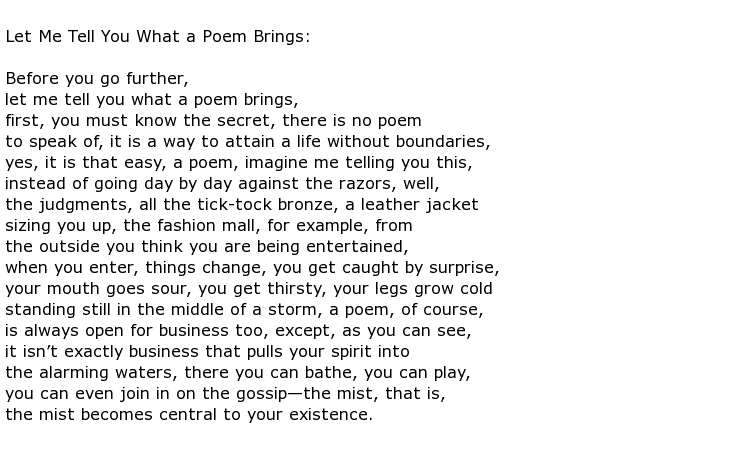 A lifetime of achievement as a notable poet led to a number of honours starting in 2011 when the Academy of American Poets elected him as a Chancellor.  The following year the Governor of California made him the state's Poet Laureate and then he was made National Poet Laureate in 2015.  He has been an enthusiastic teacher of the performance arts and poetry, never afraid to work in diverse settings such as prisons, community centres and art galleries.  His work has won many awards such as the PEN Open Book Award (2009) and a Guggenheim Fellowship the following year.
Juan Felipe Herrera is now in his late sixties and lives with the performance artist and poet Margarita Robles in Redlands, California.