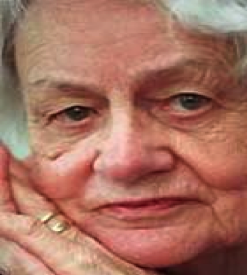 Born Judith Arundell Wright, 31st May 1915 in NSW Australia, she was one of Australia's foremost poets and writer of short stories and children's books.  She spent much of her childhood in Brisbane and after the death of her mother, Ethel, was a boarder of a girls school in New England.  After graduating she studied at Sydney University but failed to take a degree. Whilst working as a statistician at Queensland University in 1946 she produced her first collection of poetry, The Moving Image.  Shortly afterwards she met her husband-to-be, philosopher Jack McKinney and they lived together at Mount Tamborine until Jack's death in 1966.
Her work as a poet had started to become prominent after WW2 when her passion for the environment and her concern for the problems facing the Aboriginal people defined her writing.  She always held the belief that writers should concern themselves with social and national problems.  She had a deep love of the Australian landscape and her distress at its destruction and the persecution of the Aborigines by white settlers drove her to form the Wildlife Preservation Society of Queensland.  Her abiding love of wild birds was reflected in a collection – Birds – written while living at Mount Tamborine, and voiced her anguish over the cruelty and pain inflicted on them by humans.  Wright's poem, from Australia, reflects her anxiety about the disappearing landscape:

In 1955 in The Two Faces, she wrote of Hiroshima as the ultimate example of man's ability to destroy the land and nature itself.  Her activism in conservationism led her to concentrate on the relationship between the land and language.  She said:

Alienation from the land meant, for her, a crisis of language and she was moved to criticize the education system in Australia for failing to teach the joy of poetry and to combat this she actively promoted the reading and writing of poetry in schools.
Judith Wright went on to receive numerous honours and awards through her lifetime, including the Grace Leven Prize, the Australia World Prize and the Human Rights Equal Opportunity Prize.  She was awarded honorary degrees from several universities and was called the 'conscience of the nation' for her lifelong commitment to Australia's environment and to the cause of the Aboriginal people.  During the late 1970s she helped form the Aboriginal Treaty Committee to spread the message about the need for land rights for indigenous peoples and wrote a letter on this subject to the Australian Prime Minister which was said to be:

Even a week prior to her death she appeared at the Reconciliation March in Canberra, joyful in the hope that the tide was turning at last for the Aboriginal individuals.
Judith Wright passed away from a heart attack in Canberra on 25th June 2000 at the age of 85.