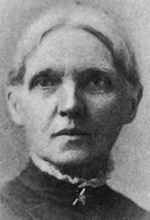 Julia Abigail Fletcher Carney was an American poet and teacher of the 19th century who wrote under a number of pseudonyms including "Sadie Sensible" and "Minnie May".  Much of her work was religiously-themed and her words were often set to music and sung as hymns.  These were so popular that they could be found in American hymn books for at least fifty years after publication.
She was born Julia Abigail Fletcher on the 6th April 1823 in Lancaster, Massachusetts.  Her ancestors included important military figures from the American Revolution and it is believed that she inherited her strong sense of patriotism from them.  She was expressing her thoughts in verse from a very early age, sometimes relying on her siblings to write them down, but an aunt expressed dismay to her mother that she should not be allowed to continue doing so.  Julia was banned from writing for a while but this did not last too long.
It is remarkable that a bout of scarlet fever at the age of eight did not interfere with her creative urges or her hunger for reading the contents of her local library.  She recovered though, and went to school at the Lancaster Academy.  Her poetic efforts were thought good enough for publication in local papers and other publications as far away as Boston and she was encouraged to continue.  At the age of 17 she was living in Philadelphia with one of her sisters and she took up a teaching post at a private school.  After two years she was back home and successfully continued her teaching activities up to the spring of 1849 which was when she married a Universalist minister called Thomas Carney.
While enjoying her time as a popular and devoted teacher she also made sure that she devoted plenty of time to her writing.  Her work was found in radical, reforming newspapers along with a number of Sunday school instruction books.  The newspaper Boston Trumpet had a column called "Poet's Corner" and Carney was chief contributor to that.  Other publications taking her work included the Christian Freeman and Universalist Miscellany.  For the latter she used the pseudonym "Rev. Peter Benson's Daughter" and "Julia" for prose and poetry that appeared in the Ladies' Repository.
At least two volumes of poetry and prose came from her pen, these being Gifts from Julia and Poetry of the Seasons.  One of her best known poems was called Little Things and this charming piece is reproduced here: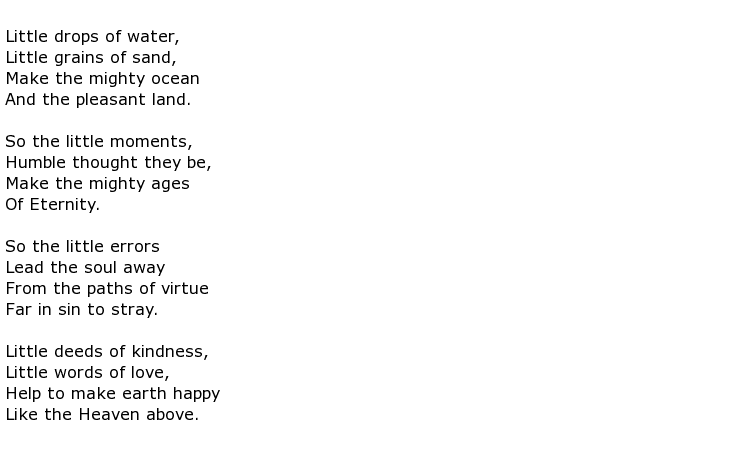 Following her marriage Carney tended to concentrate more on prose and, besides religious pieces, she made contributions to "homes and gardens" type publications such as the New York National Agriculturist and the Bee-Keepers' Journal.  Her use of so many pseudonyms probably came about because she had such a diverse literary output, with her work being seen in so many different publications.  Another reason may have been her desire to retain anonymity when writing controversial pieces, such as critical commentary on the relationships between some ministers and their flocks.
Carney was an enthusiastic reformist and a keen supporter of the Sunday school movement.  She led a happy life in Maine with her husband until tragedy struck in 1871 when he was thrown from a horse and died from his injuries.  She also lost five of her children, four of them in infancy.
Julia Abigail Fletcher Carney died in Galesburg, Illinois on the 1st November 1908 at the age of 85.