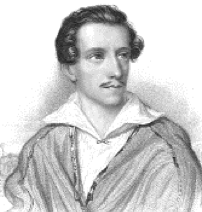 Juliusz Słowacki was a 19th century Polish Romantic poet, one of the so-called Three Bards of that period in Polish literature when much anguished poetry was written about the loss of Polish sovereignty.  He and his two contemporaries, Adam Mickiewicz and Zygmunt Krasiński, were exiled in France for their own safety but this status did not, at the time, endear them to the Polish people.  It was only after his death that Słowacki gained sustained popularity and his lyrical retelling of ancient Polish tales and Slavic pagan traditions ensured that he became known as the "father of modern Polish drama".
He was born on the 4th September 1809 in Krzemieniec which was, at that time, situated within the Volhynia region of the Russian Empire.  His father was a nobleman who taught literature and history but it is unlikely that Juliusz was influenced by him in his future endeavours because he died when his son was only five years old.  It was his mother, also of noble stock, who took up this mantle and her literary salons exposed the boy to people who would inspire him to become a writer himself.  It was at one of these that he met future bard Adam Mickiewicz.
He was educated firstly at the local lyceum and then at a gymnasium in Wilno, now known as Vilnius in Lithuania.  He had brief employment in Warsaw, working for the government in the Treasury department, and he also served as an official courier, at one time visiting Dresden where he was well received by the Polish émigré community.  They knew of his literary reputation and he was known as "the bard of fighting Warsaw".   Like so many others though he had to flee the country after the November 1830 uprising against the Russians.  He found himself wandering Europe, at times living in Paris and Geneva.  He did go home for a short time in 1848 to witness another uprising but soon returned to Paris, and it was there that he died the following year.
Słowacki's first published work was a novel called Hugo which was published in parts in a French periodical called Melitele sometime during 1830.  Recognising the trouble and strife being endured by the people of Poland he wrote a number of patriotic and religiously-themed pieces such as Ode to Freedom.  A first collection was published, in France, of his poetry in 1832 and he also wrote two pieces of drama.  He struggled to win universal approval though and it was said that much of his work did not truly reflect the anguish of a people living under foreign rule, although later work was better appreciated as he adopted a more nationalistic tone.
A major example of his lyric verse was the multi-part Anhelli which was Słowacki's touching, but stark, description of what became of Polish people who had been forcibly exiled to Siberia.  It is very gloomy in tone, suggesting a sad vision of the destiny of Poland and its people.  Here are the opening lines to the first part of this epic work: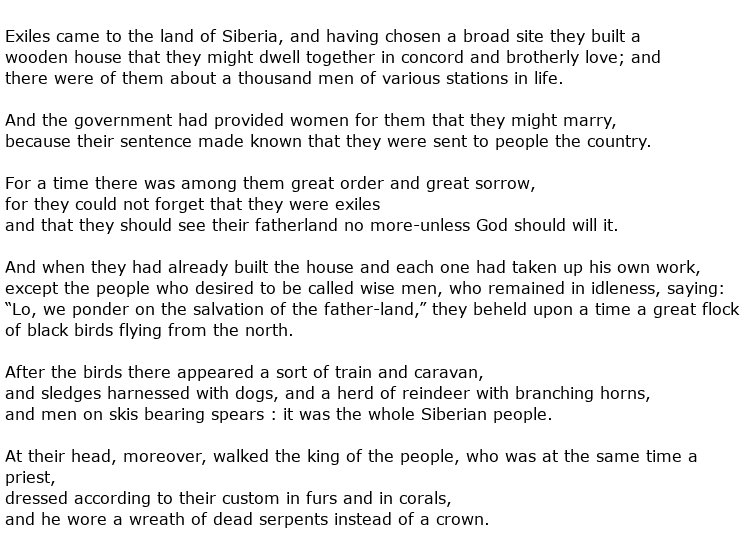 Other work though was much lighter and romantic in tone, reflecting the wonderful scenery that he enjoyed on his travels, especially in Switzerland.  In 1834 he produced what many have described as his best dramatic work, a play called Kordian, which tells of the intense soul searching of the people following a failed insurrection attempt.  His output during his final years in France was prolific and he always retained the hope that he would soon be able to return to his homeland, but this was not to be.
Juliusz Słowacki contracted tuberculosis and died on the 3rd April 1849 in Paris at the young age of just 39.  There were very few people at his funeral and it was almost as if this great genius of Polish literature had never existed.  Eventually his remains were exhumed and re-interred in the Crypt of the National Bards in Kraków's Wawel Cathedral, this event happening in 1927.