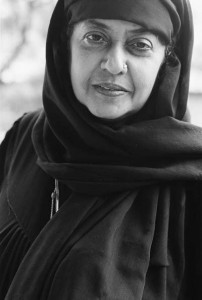 Kamala Das was born in 1934 in India into an artistic family with a father who was managing editor of the Daily Mathrubhum and a mother who was a much respected poetess. She is noted for her honest poems and other writings that cover a wide range of issues. She was born in Kerala where Malayalam is spoken, an Indian dialect that is part of the Dravidian family of languages.
Her work challenged cherished beliefs in India about female sexuality and she has often been seen as one of the leading lights for women's rights. Kamala Das fell in love with writing from a very early age, coming under the wing of her uncle, Nalapat Menon, who was also a well-known writer.
She was married at the age of 15 to Madhava Das with whom she had three children. He actively encouraged her writing and she quickly became renowned in the heady artistic and cultural changes of Calcutta in the early 60s.
Because she was of the 'fairer sex', Das couldn't write during the day like her Uncle but would have to wait until night and would often work through to the early hours. From the outset she wanted to experience as much of life as possible and said she was always lucky to have such a supportive husband. Her exploration of women's needs inevitably led her towards eroticism and she often linked this to her thoughts on death, something that set her apart from many of her compatriots at the time.
In 1965 she produced her first book of poetry, Summer in Calcutta, a collection that covered romance, love, betrayal and its aftermath. She was different from other poets of her time who were still tied to the rigors of 19th century conventions, instead opting for a personal and less sentimental approach to poetry. Her second collection, The Descendants, urged women to unleash their hungers and give their man what he most desires.

When she was in her forties, she published My Story which was supposedly autobiographical, though Dal did admit later that there was some fantasy within it. Originally written in her native Malayalam, it elicited admiration and criticism in equal measure for its sexual honesty and is still the most popular autobiography in India to this day.
Later in life she traveled far afield to read her poetry, visiting Germany, England, Canada and Australia as her fame spread. She has been called the mother of modern Indian English poetry and has always been just the right side of controversial. At the age of 65 she converted to Islam when she formed a relationship with Islamic scholar Sadiq Ali after her husband died. It was a decision that she regretted and she wanted to convert back to Hinduism but was discouraged by her son who thought that radicals might threaten her.

In 1984 Das was shortlisted and nominated for the Nobel Prize in Literature and remains one of the leading lights of Indian literature. She died at the age of 75 in 2009 and her body was flown home where she was buried with full state honors.