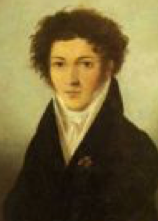 Konstantin Batyushkov was a Russian elegiac poet and translator of the literary and artistic Romantic movement which swept Europe during the late 18th and early 19th centuries.  He also served in his country's diplomatic corps, spending two years in Naples between 1818 and 1819, and also as a junior officer in the Russian army during the Napoleonic wars.
He was born Konstantin Nikolayevich Batyushkov on the 18th May 1787, possibly in Vologda in the north western region of Russia, though this cannot be confirmed for certain.  He had a comfortable upbringing on his family's estate in the Tver province.  Part of his education was taken in St Petersburg private boarding schools and it was here when he, almost certainly, was inspired to become a poet.  He enjoyed a wide curriculum of subjects, including calligraphy, dancing, sciences and European languages.  His growing knowledge of French contributed to his first piece of literary translation, this being a speech given about the coronation of Alexander I of Russia.
He was writing poetry by the age of 15 and was soon having his work published.  In 1805 he had a piece called Epistle to My Verses published in Moscow University's literary magazine Novosti russkoi literatury.  His writing though was interrupted when the war with Napoleon's forces caused him to take up military service as a junior officer in the Petersburg battalion of the Militia.  He was sent to the front line and suffered battle injuries in 1807 and his efforts led to the award of a bravery medal called the Order of St. Anne, 3rd class.  Even during this traumatic time though he had continued to write whenever he could, either in the form of essays or verse.
While convalescing in Riga he fell in love with a woman who inspired at least two romantic poems which would become popular throughout Russia.  The first was called Vyzdorovleniie which translates as Convalescence, and the second was  Vospominaniia 1807 goda (Recollections of 1807).  Probably one of his best known poems was called Videnie na bregakh Lety (A Vision on the Shores of the Lethe) and was one of a number of dreamy, almost mystical pieces that he became known for.  A similar example would be My Spirit and this poem is reproduced below: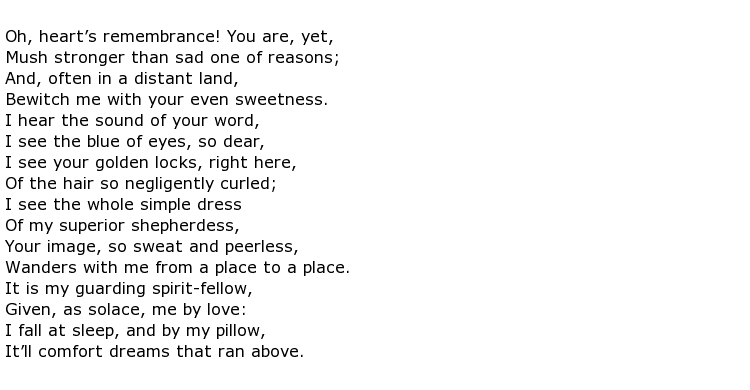 Batyushkov was deeply affected by the devastation wrought upon his country by the invading Napoleonic armies in 1812 and, but for ill health, would have immediately joined the military once more to repel these "vandals and barbarians".  He did join the army eventually and was dismayed to see the ruins of Moscow, calling the war an "incarnation of evil".  The Russians managed to turn the tide though and he found himself in Paris during the early part of 1814 and he noted, in one of his essays, that "the age of glory for French literature had passed".  He eventually made his way back home via a short stay in London and then by sea via Gothenburg.
Batyushkov achieved national recognition for his work and many have said that he was a great inspiration to the famous Russian poet Alexander Pushkin.  However, his mental and physical health was suffering during his later years and he was granted permission to travel to Germany and Italy in order to convalesce.  It was hoped that this would cure him of his ills but he was sinking into a pit of insanity brought on by a deep depression. He destoyed many of his manuscripts and also attempted suicide on three occasions.  It was clear that his mind was, perhaps terminally, troubled when he wrote the following lines in his final poem, produced in 1853: 



Konstantin Batyushkov contracted typhus and died on the 7th July 1855 at the age of 68.