Lady Jane Wilde was a 19th century, pro-Irish nationalist poet who used the pseudonym "Speranza".  Although famous in her own right one of her children was the renowned poet and playwright Oscar Wilde.
She was born Jane Francesca Agnes Elgee on the 27th December 1821 in Wexford, the daughter of a lawyer.  Her ancestors were originally Italian.  As she grew up she became increasingly involved in nationalist matters, particularly in support of the "Young Ireland" movement.  Using the above pseudonym, she wrote pro-Irish independence-themed articles and poems which were published in a weekly Dublin newspaper called The Nation.  She even went so far as to call for "armed revolution in Ireland" in one article which led to the closing of the paper by the authorities at Dublin Castle.  Although her editor refused to name Wilde as the author of the piece she reputedly admitted in court that it was her own work, although this confession was ignored.
She was also a great supporter of women's rights and believed that they deserved a much better lot in life, from education to property rights in marriage.  She allowed suffragettes such as Millicent Fawcett to speak at a meeting in her house on liberty for women.  No doubt she carried these principles into her own marriage when, in 1851, she married eye and ear surgeon William Wilde.  Their two sons, William and Oscar, both became writers of some renown, although they both died in their forties.  Their daughter Isola died at the age of only nine.
Her husband was knighted in January 1864 and so, from then on, she became known as Lady Jane Wilde.  At a time when her fortunes should have been on the rise both tragedy and social scandal followed during the next few years.  A successful court case was brought by a young woman who claimed that Sir William had seduced her, resulting in punitive damages against the Wilde family.  Their daughter died of the fever shortly afterwards and this was followed by the death of the two illegitimate daughters of her husband.  Sir William himself died in 1876 and the façade of financial security was laid bare when it was discovered that he had been on the verge of bankruptcy.
Despite all of her personal problems Lady Wilde's literary output was prolific by this time and she often wrote in a romantic, often flowery style.  In keeping with her nationalist leanings she wrote The Young Patriot Leader and the opening verse is reproduced here: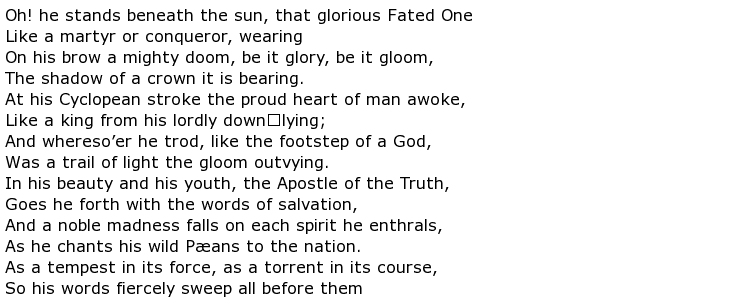 Following the death of her husband she moved to London to live with her son Willie but, between them, their finances were severely stretched.  Lady Jane managed to sell articles to London Magazines and also wrote books on Irish folklore but none of this made her very much money.  She suffered with ill health and, early in 1896, she caught bronchitis.  Fearing that she may not recover she made a request to see her son Oscar who was serving a term of imprisonment.  Permission was denied and she died shortly afterwards.  A curious story followed that her spirit appeared to Wilde in his cell at exactly the same time that she died.
Lady Jane Wilde died at home in Chelsea on the 3rd February 1896 at the age of 74.  She was buried in an unmarked grave as both of her sons could not afford a headstone although a Celtic cross monument was later erected in her memory when funds were raised by the Oscar Wilde Society around the year 1999.