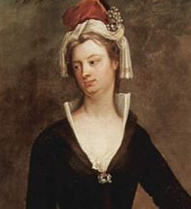 Lady Mary Wortley Montagu was an aristocratic English writer who is chiefly remembered for her poetry and a large catalogue of letters.  These were of the travelogue variety, documenting her time in the Ottoman Empire while she was married to the British ambassador to Turkey.  It was unusual for a woman at that time to write in such detail about the "Muslim Orient" and she made a point of highlighting the difficulties endured by women regarding their social and educational standing in society.
She was born Lady Mary Pierrepont in May 1689, the daughter of Evelyn Pierrepont, the 1st Duke of Kingston-upon-Hull.  She had an unusual upbringing in that a grandmother took care of her for the first nine years and this responsibility then passed to her father.  She had a privileged lifestyle, being educated at home at either Holme Pierrepont Hall or Thoresby Hall, although she taught herself Latin simply by reading the books contained within the library at Thoresby.  It was clear that she had an early talent for literature, with two collections of poetry and a novel written by the time she was fifteen, although these were not published.
At the age of 21 she had a choice of two eminent suitors for her hand in marriage and she chose the less suitable one (according to her family), eloping with Edward Wortley Montagu. They were married in August 1712.  Her first child followed a year later and then, in 1714, she moved to London when her husband took up an appointment at the Treasury.  She was soon the toast of London society with literary and aristocratic friends including the likes of Alexander Pope and John, the Lord Hervey.  She was also popular in royal circles with both the king, George I, and the Prince of Wales being captivated by her wit and beauty.
In August 1716 the Montagus were heading to Istanbul, via Vienna, where Sir Edward was to take up an ambassadorial post.  They remained there for two years and Lady Mary produced her Letters from Turkey, many of the tales she told featuring the charms and sophistication of the many Ottoman women that she came across.  She tried to put right the previous misconceptions that had been recorded by male travellers about the religion and customs of Muslim women, using her privileged position to gain better access than men could have done.  Having previously suffered with smallpox, in England, she gained valuable knowledge of treatments available such as the Ottoman practice of variolation which was their inoculation method used to fight the disease.  She wrote at length about this and her efforts were successful when such methods were introduced in the West.
As a poet she could be described as a reluctant writer to some degree, in that she never really intended for any of her work to be widely published.  Much of her work appeared in newspapers or independently published pamphlets although it was mostly intended for the entertainment of her own circle of friends.  The tone of her work varied with, for example in the poem Constantinople, obvious evidence of heroic rhyming couplets.  This poem has since been much anthologised, along with other pieces such as Epistle from Mrs. Yonge to her Husband.  Here are the opening lines of the poem that was written during January 1718 from the Chiosk at Pera which overlooks the city of Constantinople.  The author clearly has a love of the warmth to be enjoyed in such a place, in contrast to England which she describes as

Lady Mary Wortley Montagu died on the 21st August 1762 at the age of 73, a year after the death of her husband.  Her Letters and Works were eventually compiled and published in 1837 by her granddaughter who was, herself, in her eighties by that time.