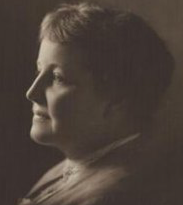 Lala Fisher was an Australian born poet and literary editor.
She was born on the 27th January 1872, and named Mary Lucy Richardson in Rockhampton, Queensland.  Her father, named Archibald, was a member of a team that had been out on expeditions mapping the area and later made a name for himself discovering precious stones, in the form of zircons and sapphires, close to Rockhampton.  Mary was educated at the local grammar school for girls and soon began writing poetry which was accepted for publication in a variety of newspapers.
She was married on 7 August 1893 to Francis George Fisher , with whom she had two boys.  The family went to live on England's Isle of Wight in 1897 and Lala, as she was now called, took the opportunity to travel to London whenever possible in connection with her developing writing career and also to carry out lectures.  Her first collection of poetry was published the following year under the title



It came to the attention of reviewers back home in Australia, with one Brisbane newspaper suggesting that she should



and the Telegraph reviewer told her to



Rockhampton reviews were similar, with Rockhampton's Morning Bulletin reviewer noting that she was



but, in spite of this, the



Her first editorial task came in 1899 when she edited a collection of poems and short stories called



which was a body of work from different Australian writers living in England.  She soon became well known in London literary society, joining the



and becoming a fellow of the



.  She had the honour of being presented to Queen Victoria as her home state's representative on the



After four years in England Fisher and family went back home and she continued to submit pieces to a number of periodicals, including Rudd's Magazine.  The early years of the 20th century were tough, financially, and she had to supplement her income with jobs such as housekeeper at a hotel and clerical work for an insurance company.  The family were in Sydney when her two sons joined the First World War effort.  She had become the owner and editor of the Theatre Magazine in 1909 and remained so until the end of the war.
Two further collections of poetry came from her pen.  In 1915 she had Grass Flowering published and, three years later, Earth Spiritual came out.  Some described her later work as bordering on the metaphysical with a strong romantic theme running through most of her poetry.  Here is a typical example, a poem called The Moon Flower:


It seems likely that travelling across the world and financial worries put too much strain on her mind and body and, during the 1920s, she suffered from poor mental and physical health.  She was deemed to be suffering from some kind of mental breakdown and she was taken to Gladesville hospital in 1923.
Lala Fisher died of heart disease on the 27th February 1929 at the age of 57.