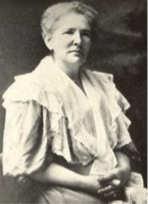 Laura Elizabeth Richards was a prolific American writer who was responsible for some ninety books during her lifetime. She is best known for her children's stories and poetry with, possibly, her most famous piece of work being a short piece of poetic nonsense called Eletelephony. She lived a long life and was highly regarded in both 19th and 20th century literary circles with her talents winning her a number of awards. In 1917 she won the Pulitzer Prize for a biography which co-written with her sister. It was the story of her mother, the famous writer Julia Ward Howe, whose major claim to fame was that she penned the words to a famous and stirring American anthem.
She was born Laura Elizabeth Howe on the 27th February 1850 in Boston, Massachusetts. Her father was Dr Samuel Howe who was rather well to do and Laura grew up in comfortable circumstances. She was well educated and exposed at an early age to literature, languages, music and fine art. She loved to read books of fairy tales and children's adventure stories, especially those written by Mayne Reid. Through Reid's stories she also gained some knowledge of natural history as many of the tales featured fantastic adventures played out by wild beasts.
She was a keen student of English poetry such as that written by the likes of Elizabeth Barrett Browning, Tennyson and Shelley, and many others. She once said that she would:

Her education was enhanced with a family trip to Europe in 1867 which included visits to London, Antwerp, Athens, Venice and Rome. On her return she became engaged to Henry Richards who had been living next door to the Howe family for some years. Laura and Henry were married in 1871, and the couple raised three children while living in Maine.
Laura said that she used her own children for inspiration when it came to making up rhymes and she began to write down her ideas, eventually publishing a first book called Five Little Mice in a Mouse Trap which was published in 1880. Here is a charming example of her poetry, the above-mentioned Eletelephony:

Other titles quickly followed and she soon began to specialise in writing stories for girls such as Captain January which was later adapted as a movie in 1936 starring Shirley Temple. She wrote a whole series of girls' adventure stories about a character called "Queen Hildegarde" which were very popular. Many of the situations that cropped up in her books, especially in the "Three Margarets" series, appear to have been drawn from her own childhood experiences.
Some comparison could probably be drawn with the English writer Enid Blyton who also wrote adventure stories for children, although Laura Richards tended to aim her work at girls. A New York Times Book Review (written in 1932) pointed out that:

She was a teacher as well with the firm aim of giving children a love for, and knowledge of, literature. She would read her own poems to them, and those of other writers. She adopted a strong philanthropic attitude towards education both during and after school hours, and she also became involved in adult education and public library services.
Her literary output never waned and she churned out stories and books of verse for children on a regular basis well into her eighties. Her last title was published in 1939 and was called What Shall the Children Read.
Laura Elizabeth Richards died on 14 January 1943, aged 92.