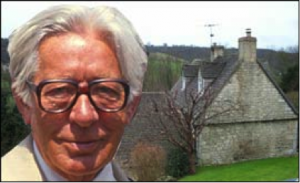 There is a little village called Slad which is nestled in the Cotswold Hills, close to the small town of Stroud in Gloucestershire. It was here that the poet Laurie Lee arrived with his family in 1917 and his life in this beautiful rural location inspired Lee to write, some 40 years later, his most famous work – Cider With Rosie. It's part of an autobiographical trilogy and is a true classic of English literature, having been studied as a set book by several generations of school children and older students. The following lines from Rosie make it clear though that arriving in Slad wasn't the happiest of events:

Laurie Lee was born on 26 June 1914, in Stroud, and was educated first at Slad Village School and then Stroud Central School. He didn't seem to have much in the way of academic ambition, leaving at only 15 years old and taking up a menial job running errands. His imagination was taking him further afield though and, in 1933 when he was aged 19, he took to the road, walking all the way to London. He got by teaching the fiddle, an instrument that was always with him. His travels then took in Spain and other parts of the Mediterranean region.
The 1930s were a dangerous time to be in Spain and, before too long, he joined the International Brigade fighting the Fascists. He was not medically fit enough to fight, although he stayed there, working in a voluntary capacity. He penned the second and third parts of his autobiography here (the first being the above mentioned Cider With Rosie). As I Walked Out One Midsummer Morning (also a popular first line in many English folk songs) was followed by what many critics have considered to be his finest work – A Monument of War.
Although Lee had clearly enjoyed his times spent travelling Europe it is obvious from the poem, reproduced below, how much he missed his homeland. You can imagine him writing Home From Abroad even as his ship is being tossed by the waves of the English Channel, the white cliffs almost in sight: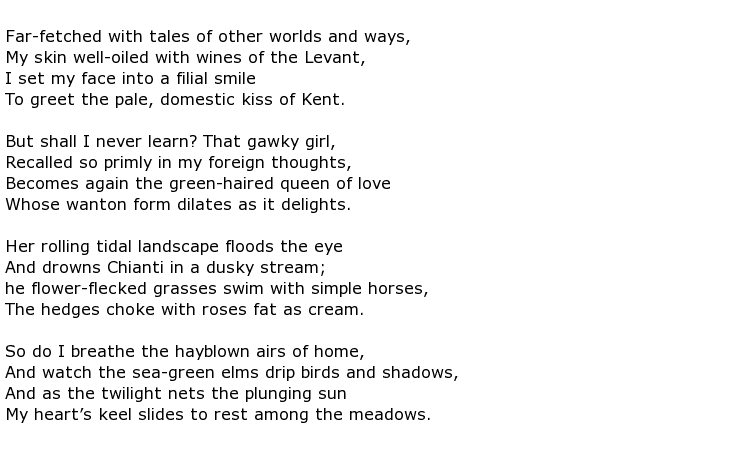 The following decades saw Lee working as a journalist, scriptwriter and Civil Servant for the Ministry of Information during WWII. In 1952 he was awarded the MBE in recognition of his work as the chief caption writer during the Festival of Britain. Before this though he had tried to establish himself as a poet and published a number of pieces of work in either book form or in magazines. His wartime poetry was especially notable, reflecting the tensions and hardships of war on the home front while reminding everyone what a still beautiful country England really was.
Lee travelled a great deal and published several books about these trips including A Rose For Winter, about the southern Spanish region of Andalucía in the 1950s. As you would expect, Lee won countless honours and awards for his writing and his books sold worldwide. Once Cider With Rosie had established itself as a best seller he was able to go back to Slad and purchase his childhood home with the proceeds. He and his wife, Cathy, went to live there in the early 1960s and remained there for the rest of their days.
Laurie Lee died in May 1997 aged 83 and he was buried in Slad churchyard.