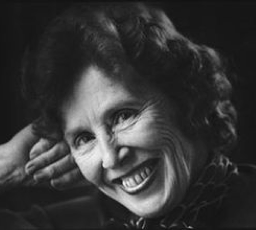 Lauris Edmond, OBE was a 20th century, award winning New Zealand poet, playwright and novelist.
She was born Lauris Dorothy Scott on the 2nd April 1924 in Dannevirke, Hawke's Bay which is a small town on the north island.  When she was seven years old her home area was devastated by an earthquake which killed over two hundred people so she was lucky to survive.  She demonstrated an early talent for writing poetry though, it seems, these were very much for her own amusement as she did not have any of them published until she was in her early fifties.  Perhaps she felt that her marriage to Trevor Edmond, and raising her children, took priority although the marriage was not a happy one and was dissolved in 1984.
Her first published collection, in 1975, was called Middle Air and a number of others followed.  This first effort won the PEN Best First Book Award.  She also wrote an autobiography called Hot October in 1989 and her Selected Poems won the Commonwealth Poetry Prize in 1984.  Her activities as an editor of other poets' work established her as an all-round woman of letters, in particular her work on A R D Fairburn who was a New Zealand poet of the first half of the century.  Following this she was awarded the Katherine Mansfield Memorial Fellowship and this enabled her to live and work in the south of France for a six month period where she continued to write.
1984 saw Edmond trying her hand at a novel and High Country Weather was well received by many.  Although it was, ostensibly, a work of fiction it is believed that much of what happened to one of the married female characters reflected her own troubled marriage, a union that ended around the same time as this book came out.  It was seen by female readers as a feminist-themed book and encouraged many women to pursue a similar path at a time when such ambition was seen as breaking with convention.
In 1986 her services to literature were recognised when she was made an Officer of the Order of the British Empire, thus allowing her to use the post-nominals OBE.  Further home-based honours and awards came her away including an honorary DLitt degree from Massey University, in 1988, and the A.W. Reed Award for Contribution to New Zealand Literature from Booksellers New Zealand, which was presented in 1999, which turned out to be the last year of her life.
When Edmond died it was seen as a huge loss to New Zealand literature.  She had been an extremely popular writer, touching on subjects that many people cared about rather than the abstract concepts that so many poets seem to dwell on.  The day-to-day aspects of life, such as love, friendship, family and human happiness all found a place in her poetry.  She describes all of this with warmth and intimacy that was very pleasing to the reader, as seen in her slightly sad reflections in a poem called In Position:



Additionally she wrote lovingly about the land that she grew up in, an example being in these line from her 1994 poem Small City:



But then there were angry words about the French nuclear bomb testing in the Mururoa Atoll during the last decades of the 20th century.  In her poem Nuclear Bomb Test she said



Lauris Edmond died unexpectedly at home in Wellington on the 28th January 2000.  She was 75 years old.