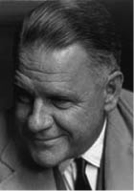 Lawrence Durrell was a 20th century writer who considered himself to be more Tibetan than anything else, having been born in the foothills of the Himalayas. His most famous publication was The Alexandria Quartet and he also produced a considerable amount of poetry and travelogues.  He spent many years working for the British Foreign Office at a variety of postings around the world and he used this time well, embracing the cultures in which he lived.
He was born Lawrence George Durrell in February 1912, in a northern Indian town called Jullundur, close to the Tibetan border. His father was English while his mother was a mixture of Irish and English so he never really identified with any one country as his own. When he was sent to England at the age of 11 he was horrified with the English way of life which he referred to as "the English death." He also went on to say:



He muddled through school with no enthusiasm whatsoever and failed his university entrance examinations, probably deliberately.
He really wanted to be a writer but struggled to establish himself in this profession. In 1935, though, when he was 23, he had two strokes of good fortune. The first was that he had his first novel published (Pied Piper of Lovers) and the second was that he was able to persuade his mother to take the family, including his wife Nancy, to live on the Greek island of Corfu. Ostensibly this was for economic reasons but, bearing in mind Durrell's dislike of dreary England, it was also for a better climate!
An amusing account of the life of the Durrell family on Corfu was famously written down by brother Gerald and published under the title My Family and other Animals along with other autobiographical titles about their stay. Lawrence found living here invigorating being closer to his beloved India and he was inspired to write more than he done whilst in England. He was influenced here by his friendship with the famous writer Henry Miller and the two went on to be friends for the next 45 years.
The Greek idyll was interrupted though with the onset of the Second World War and Durrell and his wife moved to Egypt in 1941, settling in Cairo, but the pair separated a year later. He then found himself working in Alexandria working for the British Information Office. He spent as much time as he could writing and continued this on his return to Greece in 1945, taking up another British civil service post for the next two years. Another posting took him to Argentina and this was followed by one in Belgrade.
In 1952 he moved yet again, to Cyprus, where he taught English literature while filling a public relations officer post for the British government. It was a troubled time on the island though and his book Bitter Lemons describes the war between the Greek and Turkish Cypriots. It was here that he started his Alexandria Quartet and, when it was completed in 1960, he was an acclaimed, international author. By this time he was living in France and he settled down over the following years to write further novels and poetry.
His Collected Poetry was published in 1980 and many of his poems were inspired by the diverse landscapes that he spent so much of his time studying. Some of his work featured in the Faber Book of Modern Verse. A good example of his lyrical poetry is one called Delos, a romantic piece about a small Greek island: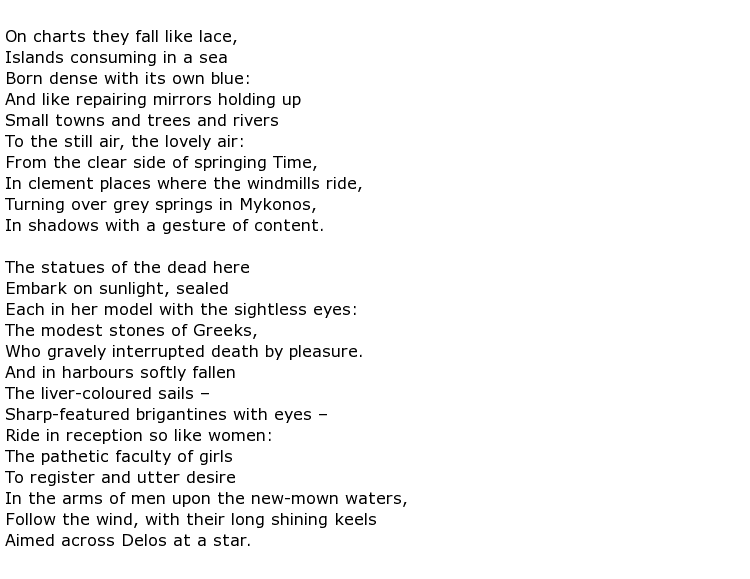 Additionally his Antrobus stories where an amusing exposé of civil service life.
He married four times in his lifetime, all of them short-lived affairs.
Lawrence Durrell died in southern France in November 1990, at the age of 78.