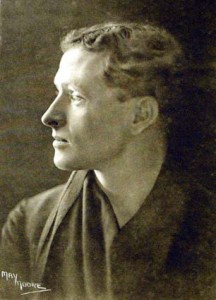 Born in 1892 in Adelaide, South Australia, Leon Gellert was a poet and writer who served in the disastrous Gallipoli campaign during the First World War before being wounded in battle. He was brought up by an indulgent mother and a Methodist father of Hungarian origins who did not believe in sparing the rod. Gellert himself was a strong child and it wasn't long before he fought back against his father and stopped all attempts at paternal bullying.
Despite the differences between the young Gellert and his father, he was always very grateful for an early introduction to reading and writing and the ingrained love of books that would last throughout his life. The first book he was introduced to was Coral Island and this would be influential in his desire to write poetry.
Gellert initially went into teaching even though his father was not very supportive. He was given financial help by an uncle which meant he could go from a teaching college education to Adelaide University where he studied literature and history. He had already embarked on his teaching career but then World War I broke out and shortly after Gellert enrolled in the army and found himself sailing towards Europe.

On board ship to his destination, Gellert began to write verses as a diversion and in April 1915 he disembarked at Gallipoli where he was part of the Australian Imperial Force. He was wounded shortly after landing and sent to Malta first of all and then to London where he was found to have epilepsy.
Unwilling to stay out of the war despite his injuries, Gellert tried to return to the front but was quickly sent home where he took up teaching again. In 1917 he published the collection of verse that had been written during his time in Gallipoli. Songs of a Campaign received good reviews and was hailed as one of the best poetry collections to have come out of the war and saw Gellert compared to Siegfried Sassoon and Rupert Brooke in England.

Critics said at the time that Gellert's best work was shown in his first collection despite his own best efforts to drive his career forward. He published a collection of 120 poems a few years after Songs of a Campaign but it failed to grab the public and critical attention he had hoped for. Disappointed by this failure, Gellert moved into journalism. He married in 1918 and began writing a column in the Smith's Weekly, eventually becoming an editor for Art in Australia magazine.
Gellert continued to write columns and edit various publications for the rest of his life. He took charge of the Sydney Morning Herald during World War II and later, closer to retirement he wrote for the Sunday Telegraph. Following the death of his wife in 1969, Gellert settled in a cottage in Adelaide where he remained until he passed away 8 years later in 1977. He was 84 years old.