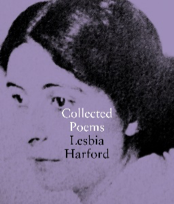 Lesbia Harford was an Australian poet and political activist.  She was also the author of a single novel called The Invaluable Mystery, but this was not published until 1987 which was sixty years after her death.
She was born Lesbia Venner Keogh on the 9th April 1891 in the Victorian town of Brighton which is a suburb of Melbourne.  Her father was a struggling real estate agent and, on becoming bankrupt, he left the family home when Lesbia was nine years old, leaving her mother to struggle with four children to raise.  Despite the difficulties she managed to achieve a decent education, attending two convent schools and then the University of Melbourne from where she gained a LL.B degree in 1916.
It was at Melbourne where she first came to light as a political activist, speaking out against her country's role in the First World War and policy of conscripting young men to fight.  She also took an active interest in the poor conditions that many women were enduring in textile factories.  Despite her degree she took menial jobs in such places to get a better understanding of the problem, eventually trying to help the workers from her position of state vice-president of the Federated Clothing and Allied Trades Union.
Harford had been interested in writing poetry from a young age and she wrote in a fairly simplistic style, her considerable literary output including many love poems.  In sexual terms she was an advocate of free love, either of the hetero- or homosexual nature, and it is known that she had relationships during her short life with both men and women.  She wrote one poem called When my lover put the sea between us about the loss of a man who, it seems, chose to travel overseas to enjoy the delights of Spain and Italy rather than Lesbia, left home alone.  Here is the poem: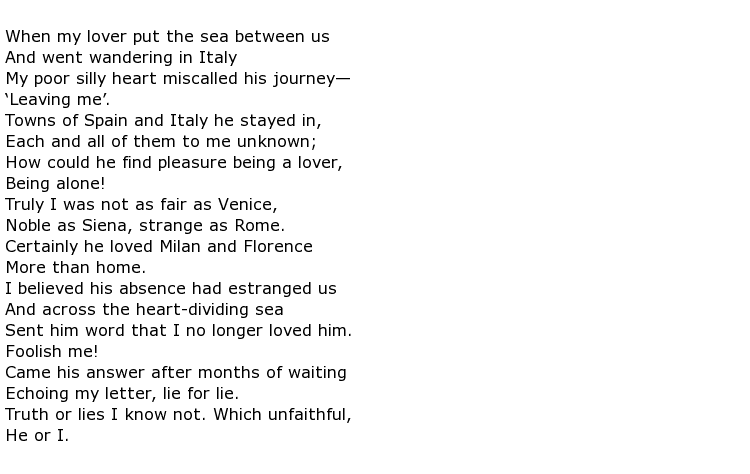 At the end of the First World War Harford became aware of the plight of the "Sydney Twelve", a group of working men who had been arrested on various charges including treason.  She went to Sydney to campaign on their behalf but her efforts were unsuccessful with two of them being executed and others given long prison sentences.  She remained in the city and, in 1920, was married to a one-time soldier named Patrick Harford.  It was not a happy union though.  They had no children and were estranged after a few years.
She had been writing poetry from around the age of 20 but did not have any published until 1921 when a Melbourne magazine called Birth included some of her work in one of their issues.  Three of her poems appeared in the 1927 book An Australasian Anthology and one critic, named H M Green, stated that she had produced some of



A posthumous collection called The Poems of Lesbia Harford was published in 1941 and critics at this time  described her as a



Her considerable output of poems was reflected in the 250-poem publication called Collected Poems.
Lesbia Harford died on the 5th July 1927 in hospital at the tragically young age of 36.  Her health had been poor for some time, having been born with a congenital heart defect.  In the end she contracted a fatal dose of tuberculosis and suffered both lung and heart failure.