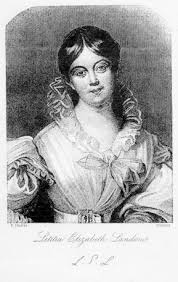 Born in London in 1802, Letitia Elizabeth Landon went on to become a writer and poet who published under the initials L.E.L. for much of her short life. She was hailed by the likes of Elizabeth Barrett Browning as one of the leading lights of women's poetry in the 19th century.
As a child she exhibited a voracious appetite for knowledge and learned to read from an early age. Landon was born into a reasonably well off family for the time which meant she could go to school at the age of five.
Landon attended the famous school of Mrs Rowden before the family moved out to the country where she was taught at home. Whilst her cousin Elizabeth was well educated, it seemed that the young Letitia had such a thirst for knowledge and learning that she soon moved ahead of her older teacher.
Her father had taken on some land but a depression soon affected the agricultural industry and the family were forced to move back to London when Landon was in her early teens. At this point, she came into contact with William Jerdon who was editor of the Literary Gazette and he encouraged her to take up poetry. Her first poem was published in 1820 when she was 18 years old but it wasn't long after that she produced her first collection of verses.

The Fate of Adelaide came out in 1821 and was published with the help of Landon's grandmother who provided the financial backing to send the work to print. Whilst the book did not create much of a stir critically, it did sell quite well though the publisher went out of business which meant Landon didn't see a penny of the profits.
With the help of Jerdon, however, she published two more of her poems in the Literary Gazette, this time under the initials L.E.L. which caught the attention of critics and started people talking about her work more earnestly. She was also given the job of chief reviewer that provided her with a reasonably steady income for the time.
In 1824, Landon published her second collection under the title The Improvisatrice which achieved more success with the public. After the death of her father in the same year, Landon became the main wage earner in the family and she began to produce more poetry, something many people see as weakening the quality of her work from then on.
Her reputation grew, though rumors of numerous affairs, including with William Jerdon, and the possibility she had borne children out of wedlock, damaged her public standing in later years.

In 1831, Landon brought out her first novel called Romance and Reality and produced the Easter Gift in the following year. In 1838, after a long engagement, she married the governor of the Gold Coast, George Maclean, in secret.
They traveled to Africa in August but a couple of months later she was found dead with a bottle of prussic acid clasped in her hand. She had been taking the medicine for an ailment and it is thought that she had suffered a convulsion and died by accident. Landon was just 38 years old.