Lew Welch was an American poet who led a short and sometimes troubled life spanning the middle decades of the 20th century. He was inspired to write when at college through studying the work of Gertrude Stein, and she was the subject of his senior thesis when graduating in 1950. His time at college was spent with fellow "Beat Generation" poets Gary Snyder and Philip Whalen and the three became lifelong friends. He spent time at a number of locations across the United States but it was while in California that he joined the literary movement that became known as the "San Francisco Renaissance".
He was born Lewis Barrett Welch in August 1926, in Phoenix, Arizona. His parents split up when Lewis was only three years old and his mother took the family to California where they led a fairly nomadic life for a while. He was educated at Stockton Junior College and then achieved a BA at Reed College. He also had a short time at the University of Chicago. During a spell living in New York he associated with the likes of William Carlos Williams and other leading writers. He made a living writing copy for an advertising company.
He was soon heading back west though, living in Nevada for a short while, before settling for the rest of his life in California. He secured a post in 1963 at the University of California Extension Poetry Workshop which was in San Francisco. He had been enjoying a long-time relationship with a Polish immigrant called Magda Cregg and he helped her to raise her son. The son, Hugh, grew up to become the professional musician and singer Huey Lewis who came to prominence with his group Huey Lewis and The News.
Lew was writing a lot of poetry and a reviewer compared his work to that of Walt Whitman. He wrote using imagery and experimental techniques with grammar, exploring such areas as the natural world, spiritualism and pop culture. An essay that was widely acclaimed was called Language is Speech and in it Welch asserted that speech was:



When The New American Poetry anthology was published in 1960 some of Welch's work was included. He published a number of collections of his own work including Wobbly Rock in 1960 and Hermit Poems five years later. He also produced a number of pieces of prose including How I Read Gertrude Stein although this was not published until long after his death by his friend Gary Snyder.
Welch was known to suffer from bouts of mental instability early in his life and attended therapy sessions in Florida to determine what the problem might be. Although he was a prolific writer he only showed his work, at first, to close friends. It was only when he moved to San Francisco that his work became widely known. Later in his life bouts of depression and heavy drinking took a toll on his health and he was unlucky with relationships, apart from the one with Magda Cregg.
He probably wrote the poem Not yet 40, my beard is already white during one such period of heavy drinking. It is an introspective but troubled piece: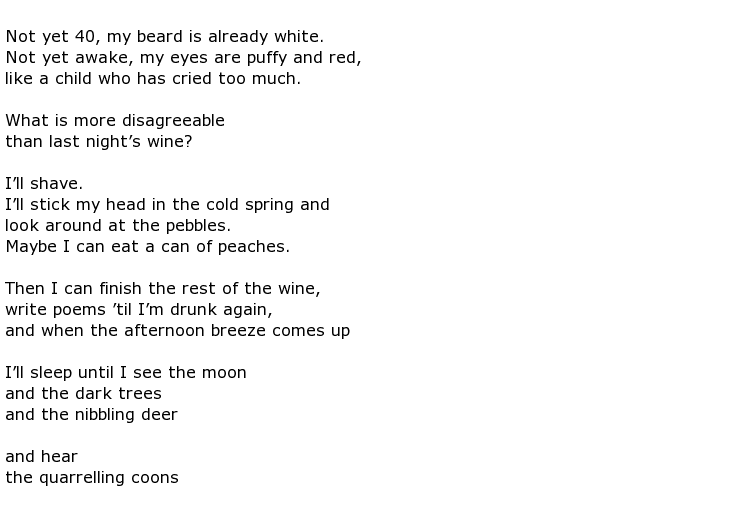 It was following the breakup of his final relationship in 1971 that he took his own life. A verdict of suicide was filed even though his body was never found. He had left a note in his truck which was parked in the Sierra Nevada mountains.
Lew Welch was declared dead on 23 May 1971. He was aged 44.