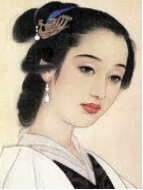 Li Ch'ing Chao (also known as Li Cingzhao or Li Qingzhao) was a cultured Chinese writer of noble birth who lived at the time of the Song dynasty, a period in history that lasted from the 10th to the late 13th centuries. She was a poet and most of her work was written in the ci form and it is believed that around one hundred of her poems still exist. A few others were written in shi form, the most significant one being a long piece, describing her life, called Afterword. Unusually for a woman of noble origin she was intelligent and outgoing. Not only did she write poems but she could also devise technical studies of the art, a good example being a detailed critique of the metrics of Chinese poetry. She was considered to be "the master of wanyue pai" which translates as "the delicate restraint".
The details of her life are sketchy but it was believed that she was born in the year 1084 in Zhangqui, which in modern times is known as the Shandong province. Her family were "scholar-officials". Li showed her talent for writing poetry at a young age and her poems were a study of a carefree young woman who lived in elegant and privileged surroundings. It is unlikely, though, that her poems would have been read much beyond the elite circles in which she lived. Some of were set to music. Here is an example, called When Night Comes, which is a lyrical description of her innermost feelings. It is a song set to the tune of Telling My Most Intimate Feelings: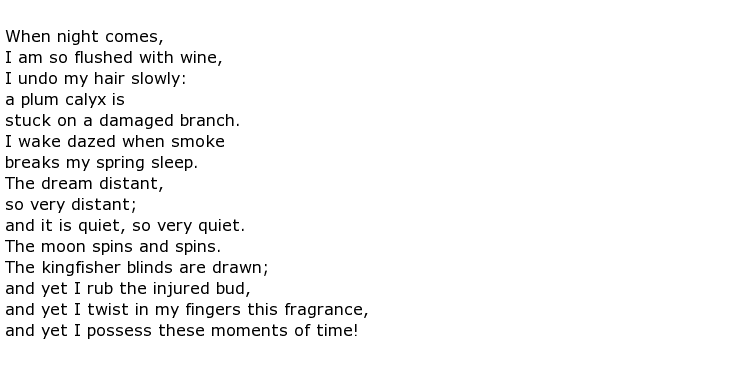 She married young, at the age of 17, and fortunately her husband shared her love of art, calligraphy and epigraphy. He was also a writer and the two wrote poems to each other, often when he was away on business. Like her father, her husband pursued a career as an official which led to frequent absences. It is known that they started a collection books and artefacts which grew to considerable size eventually. While outwardly sharing her husband's passion for collecting, it was later apparent that, although she had a happy married life, she felt some bitterness towards what she saw as an obsession. It seemed that he valued possessions more than life itself. As the Jin-Song wars ravaged the country their house was burned down but they did initially manage to salvage many of their possessions.
Li received a savage blow to her well-being when her husband died in 1129 and it was a struggle for her to maintain what was left of their collection. Now living in Hangzhou, she ensured that Jin shi lu, her husband's last piece of work, was published and she added a chapter to it, describing a life which was now in turmoil but had previously been very happy. Some accounts have suggested that she remarried but this second marriage was unhappy and short-lived.
She often thought back to happier times when she would sit with her first husband poring over and admiring newly acquired treasures while eating fruit. Both artefacts and fruit could be savoured in equal measures. But, eventually, she began to feel uneasy about this growing museum of possessions, especially when they had to economise on basic essentials such as food and clothing.
She learned a valuable life lesson when the collection was lost. Possessions acquired on earth are of a transitory nature. In her Afterword she describes how, during her husband's lifetime, these possessions were a living experience. They should therefore be remembered along with life events, rather than simply as objects. This philosophy prolonged happy memories of a shared love for each other as well as a love of knowledge and beautiful things.
Li Ch'ing Chao died in 1151, aged 67.