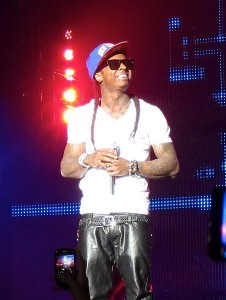 For the conservative poet or reader, an article on Lil' Wayne may be a little difficult to handle. I fall into that conservative group as well. However, I am also a professional writer, and I have tried my best over the years to maintain an appropriate appreciation for art forms that happen to be different than my own. While I am entitled to my opinions on the matter, so is everyone else, including those who are not conservative.
I confess that I have known of Lil' Wayne for many years, but never listened to his music or poetry. Largely, that was because conservative nature isolated me from his work. As I have reviewed his poetry, I acknowledge that he truly has some skill in the art of manipulating words and developing some interesting approaches to rhyme schemes. One of the first pieces I came upon spoke of the need to keep trying, to push on beyond the limits that society has set for you.
Although I myself never experienced life in the 'projects', I have worked with enough children and families in third world countries to know how difficult such a life can be. Here are some encouraging thoughts for Lil' Wayne.
Untitled
by Lil' Wayne

Lil' Wayne was born as Dwayne Michael Carter, Jr. in 1982. He grew up with his mother after his parents divorced and his biological father abandoned his family completely. He started a career as a rapper at the age of eight. He recorded freestyle 'raps' on the answering machine of a local recording studio, which ultimately landed him a mentor as well as some recording time. He was the member of several different music groups and has toured extensively. He has record numerous albums, placing him near the top of the record books for number of records made.
Here are some lyrics that he wrote for one of his many recordings.
Shot to the Heart
by Lil' Wayne

Different is different. Although I personally still don't have much appreciation for his work, it is obvious that he has quite a large following. He has had a successful career in spite of difficult beginnings and repeated difficulties with the law. It is encouraging to see that he has a philanthropic side and has done some excellent work to help underprivileged children growing up in difficult situations.