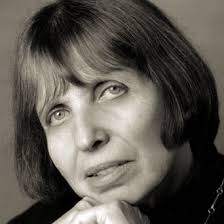 Linda Pastan is an American poet and essay writer who is known chiefly for writing short poems about family life and motherhood. A populist poet, she brings a unique feminine perspective to issues such as ageing, loss, death and the fragility of family relationships.
One of her most recent poems is Travelling Light, from 2011, and illustrates her style:

She was born Linda Olenic into a family of Jewish heritage on May 27th 1932 in New York City, but has lived most of her life in Potomac, Maryland. She still resides there with her husband Ira Pastan, a noted physician and researcher.
She studied at Radcliffe College where she won the Mademoiselle Poetry Prize, beating Sylvia Plath into second place. This was to be the first of many awards and prizes she would win throughout her life but, after graduating from college she gave up writing in order to raise a family. She later explained that, as a "product of the fifties" she felt she had to be the perfect housewife and mother and needed to devote herself to being so, and that she wouldn't be able to concentrate fully on her poetry at the same time. This action perhaps illustrated her priorities for life and set the tone for her writing. After ten years, and encouraged by her husband, she resumed her writing and has written consistently since the 1970s. She has written more than twelve books of essays and poetry, and as well as the many prizes and honours bestowed on her she became the Poet Laureate of Maryland from 1991 to 1995. Two of her collections were nominated for the National Book Award and one for the Los Angeles Times Book Prize.
In a 2003 interview with Jeffrey Brown, Linda Pastan described her way of writing. She explained how she would have liked to write a novel but that it always ended up a shorter poem. She said:

She went on to emphasise how her writing does not come easily. That although she feels a pressure to make it look easy, each poem goes through many revisions, showing something of a perfectionist streak in her. She wants the poem to have the same impact on the reader as it has on her when she reads it.
Pastan, like many writers, doubted the quality of her work even despite the numerous awards. But after receiving a lifetime achievement award which brought with it a prize of $100,000 she finally felt validated. She vowed to help her seven grandchildren through college and treat herself to some new books. A modest and self-effacing woman, she continues to write and publish her poetry.