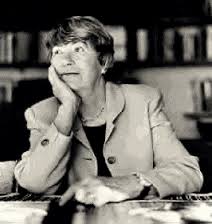 Lisel Mueller was born in Germany in 1924 but when the Nazi's came into power her family immigrated to America where she became a much loved poet and translator. Her work explores the difference between what we present publicly and our private, individual selves that people rarely get to see. Over the years she has collected many literary awards including the Pulitzer for her poetry collection Alive Together.
Mueller was just 15 when the family emigrated from Germany to Mid-West America. Her parents were both teachers and she herself went to the University of Evansville in Indiana, graduating in 1944. She has worked at various jobs over her lifetime including a social worker, library assistant, book reviewer, and teacher and she came quite late to publishing her poetry. One of her first works Dependencies was published in 1965 when she was 40.
The themes of her poetry revolve around history, a sense of what has been there for a long time and what is here now. A large part of that comes from her early family history and the times they went through under Nazi rule in the 1930s. One of her life changing moments came when she married Paul Mueller and they built their own house in Lake County, Illinois where they have lived for the last forty or so years. Of it Mueller says:

Her poem Curriculum Vitae, written in 1992, explores her youth in a series of snapshots of life in Germany where inflation made money almost worthless and everyone worried about the rise of the Nazis. It combines the innocence of a child who believes with the world is safe with a growing awareness that things are not quite right.

In 1996 Mueller published Alive Together: New and Selected Poems which went on to win the Pulitzer Prize in Literature. It included work from her previous 5 collections which explored a wide range of cultural and personal subjects such as her family history. It takes a subtle and intuitive look at the kind of people we become and the people we could have been had chance and miracle not intervened. It also looks more closely at everyday domestic life and those small moments that mean so much but that often go unnoticed.
Over the years, Mueller has received other numerous awards including The Lamont Poetry Selection of the Academy of American Poets for her collection The Private Life that was published in 1976.
In her poem Things, Mueller uses everyday objects and gives them human characteristics, saying that we create them in our own image, as indeed God created us in his own image. It is an example of how she takes a simple thing and turns it into an exploration of our deeper selves.

Now in her 90s, Lisel Mueller hasn't written a collection since her Pulitzer Prize success in 1996 but still lives in Illinois in the house that she and her husband built so many years ago.