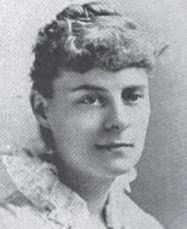 Lizette Woodworth Reese was a US school teacher and poet.  She taught classes in English in Baltimore schools for most of her adult life.  She was made Poet Laureate of Maryland in 1931 whilst in her mid-seventies.
She was born in the Waverly district of Baltimore, Maryland on the 9th January 1856, one of twin sisters.  She enjoyed a modest education at local public schools and her attendance at the Eastern High School was eventually commemorated by the erection of a memorial in her honour.  As a child she had an obvious talent for writing lyrical poetry and as her work developed she was recognised by literary critics across both the United States and Europe.  She specialised in sonnets and one, called simply Tears, was compared to the work of John Milton.
Reese began her teaching career in 1873 at the small School of St. John"s Parish.  Her duties gave her plenty of time for writing and her early work appeared in publications such as the Southern Magazine, her first effort being a poem called


It took her until 1887 to get her first book published, this being a collection called



Four years went by until the next book,



and then, in 1896,



was published.
Her major breakthrough onto the worldwide literary scene came when Scribner's Magazine published her haunting sonnet Tears in 1899.  A Baltimore journalist and literary critic called H L Mencken described her work as



Much praise was heaped upon her from all quarters and this piece of work has appeared in a number of anthologies of American literature.  The poem is reproduced here: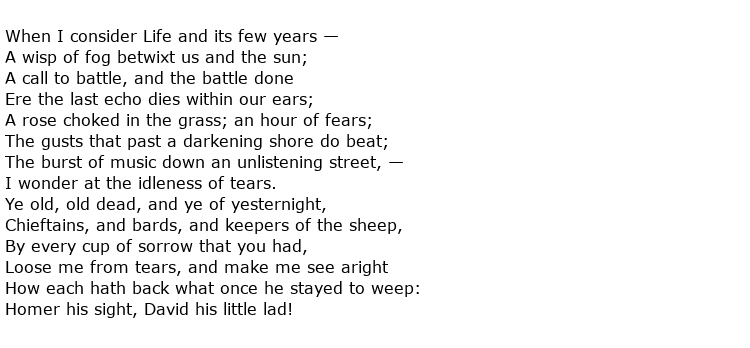 She became well known for her rhythmic style of writing, displaying keen metric capabilities.  She usually wrote of lyrical, romantic subjects, examples being her poems



She had grown up in a rural part of America and it is believed that her upbringing inspired much of her writing.  Although she specialised in poetry some works of prose were also produced.  In 1931 she was honoured in her home state by the General Federation of Women"s Clubs who named her state poet laureate.  Always keen to mentor other up and coming writers she was a co-founder of the Women"s Literary Club of Baltimore.  Additionally she was honorary president of the Poetry Society of Maryland.
Her collection Selected Poems was published in 1926 and, during her twilight years, she wrote down some poignant reminiscences of her life in two books:  A Victorian Village was published in 1929 and The York Road in 1931.
Lizette Woodworth Reese died on the 17th December 1935 at the age of 79.  Her teaching career had ended in 1918 at the Western High School Baltimore but she left such cherished memories that a sculptor friend of hers was commissioned to fashion a marble statue in her honour.  It was called "The Good Shepherd" and was erected at her alma mater, the Eastern High School in Waverly.